Live Review: CocoRosie at the Regency Ballroom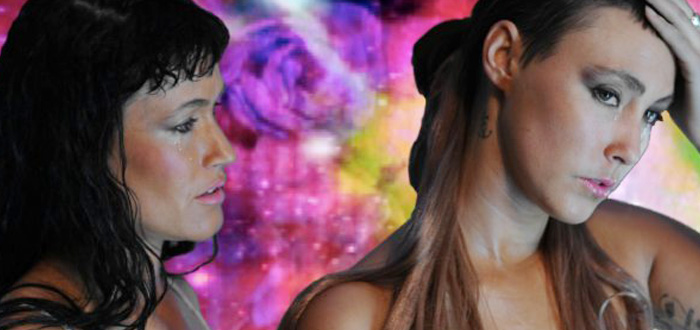 CocoRosie brought their freaky and folky musical antics to the Regency Ballroom last night with a great mix of theatrics and well-executed tunes that fit perfectly with the Halloween party atmosphere.The setting couldn't have been more perfect, as people lined the streets in homemade costumes. It was four days before Halloween, but it very well could have just been another CocoRosie show. A man dressed as a scarecrow fairy had actual bird wings atop his head, bones and all. He swayed through a crowd that didn't flinch at his bizarre garb.
When the lights dimmed and the two sisters took the stage, a clothing line hung on the stage aligned with costumes as the band the band emerged in black and white striped pullovers.
The two sisters, Bianca (Coco) and Sierra (Rosie), touring in support of their latest release Tales of a GrassWidow, took the stage with Sierra on harp as Bianca sang innocent, childlike hymns. With Sierra backing with beautiful operatic melodies,  the two sisters couldn't sing more differently and yet be so aligned. After their first song, Sierra jumped to her keyboard and Bianca peeled off her first layer of clothing, unveiling a pink ballroom dress as they started the hip-hop laden "End of Time." The crowd was energized and danced in circles with painted faces.
Theatrics were peppered throughout the performance with Bianca applying makeup to Sierra at one point, acting out sisterly childhood memories,  and Sierra danced burlesquee a number of times in platform shoes to rally the crowd. Numerous outfit changes arrived throughout the night, from cute innocent clothing to Bianca sporting sweatpants with a mangled "Every Day I'm Slim" T-Shirt and a "Pride" baseball cap, to Sierra ending up in a black tutu with a pink fishnet stocking on her right leg.
Beyond the performance tricks, the group was musically talented and creative. They executed their songs perfectly and gave an extra dimension to songs that might not normally come out on record. During an intermission a solo by their beat-boxer—the sole percussionist on stage that night—showed off his skills.
One of the best songs of the night was "K-hole," from 2005 album Noah's Arc, with fans singing along to the chilling line "What's God's name, I can't remember." Other highlights included the percussion-heavy "Smokey Taboo," from 2010's Grey Oceans, the ballad "Harmless Monster" and "Gravediggress," the first single from their latest effort, Tales of a GrassWidow.
After the encore, which consisted of improvisational noise and dance, the crowd lingered for an extra five minutes, pleading for one more song, one more trick, but the tricks were delivered with treats equally dispersed throughout the night.