Off the Grid Introduces Twilight at the Presidio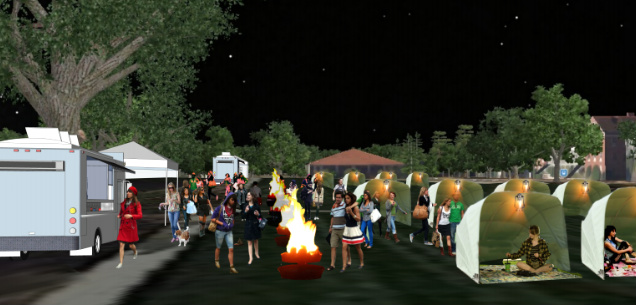 Off the Grid continues its expansion on Wednesday night with the introduction of a brand new dining experience, Twilight at the Presidio.
The event, which will be held every Wednesday night for the month of October, offers a camping-inspired dinner experience. Building on the very popular "Picnics at the Presidio' events held on Sundays, the dinner experience is complete with lantern-lit dining cabanas, cabana-side cocktail service, fire pits and live music.
Unlike other Off the Grid events, organizers say "Twilight at the Presidio" will feature street food served tapas-style, with 4-5 vendors planned for each event. Bar service will be onsite and also available to be served to both the cabanas and fire pits. Wanting to make it a unique, campfire feel, live music will also be part of the festivities.
Off the Grid: Twilight at the Presidio takes place beginning tonight from 5:00 to 9:00pm at the Main Post Lawn in the Presidio of San Francisco.