Star Chefs Gather for Street Eats Event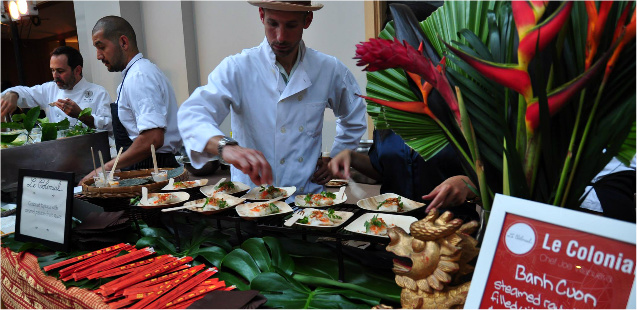 Several of the best chefs in the Bay Area are gathering at the Ferry Building on Saturday, October 5 for a gala event to benefit the local non-profit OneVietnam.
Gwen Nguyen with OneVietnam said the organization works to foster philanthropy in the Vietnamese-American community. "OneVietnam launched in 2010 here in the Bay Area with support from the Ford Foundation. We use social media and an online network to connect the Vietnamese community," Nguyen said. "We support more than two dozen grassroots organizations, including those fighting human trafficking, improving education and providing healthcare in Vietnam."
Nguyen said the Street Eats idea came about because of the importance of street food in the Vietnamese community. Like in many Asian cultures, street food is a way of life for many in Vietnam. Some peddle their wares on the streets and there are marketplaces and night markets littered throughout the country; these gatherings are part of the social fabric of life. Perhaps no one knows that better than Chef Charles Phan, who is the Gala Chair and part of the Board of Directors for OneVietnam. The executive chef and owner of The Slanted Door Group said he's proud to be a part of Street Eats, saying "it not only supports a great cause, but also provides a unique culinary experience" for guests.
As for the participating chefs this year, Nguyen said they had a certain theme in mind. "We wanted it to be an eclectic mix of different cuisines and different styles. But we were also focused on some of the restaurants that have been creating a huge buzz, places like Rich Table with Evan and Sarah Rich, Bar Tartine with Nick Balla and Cortney Burns and Ravi Kapur with Liholiho Yacht Club," she said. "It's unique because these are some of the great high-end chefs in this area, cooking their own version of street food."
Along with the aforementioned restaurant and chefs, Jason Fox of Commonwealth, Kim Alter of Plum in Oakland, Staffan Terje with Perbacco and Leo Beckerman and Evan Bloom of Wise Sons Jewish Deli will be among those participating.
The event, described as semi-formal, will be a walk-around gourmet tasting, with stations around the upstairs of the Ferry Building. Guests will also be treated to some of the cocktails of Erik Adkins, who leads the cocktail programs for The Slanted Door Group. Click here for more information on tickets.  The event is being held at The Ferry Building on Saturday, October 5th from 7:00-10:00pm.