Devil Makes Three Returns With New Music to Hardly Strictly Bluegrass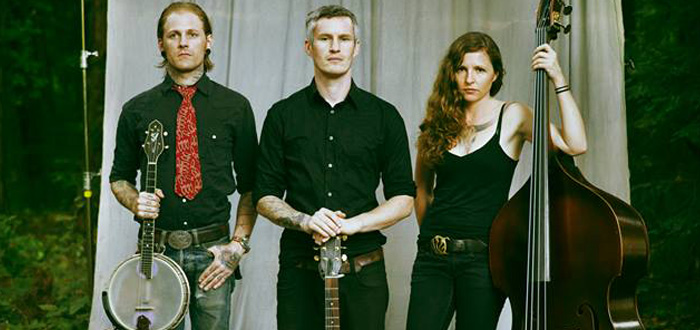 In every genre of music, there are artists or bands that comes along and redefine its spirit and attitude. The Devil Makes Three helped do that with Americana and roots music, emerging from Santa Cruz with bluegrass that is often fast, hard and they are not afraid to explore the dark side of humanity.
The trio's jovial songs are danceable with witty lyrics that are laughable, but this is one band you'll want to take seriously. On the verge of releasing their new album I'm a Stranger Here, The Devil Makes three plays its first ever Hardly Strictly Bluegrass this Sunday. We caught up with singer and guitarist Pete Bernhard at his hometown in Vermont (where there are "more cows than people") to talk about the show, recording with Buddy Miller and more.
You guys are playing Hardly Strictly Bluegrass this year, perhaps the biggest festival you've played in the Bay Area next to Outside Lands. What particularly excites you about this festival?
We're really excited to play it. It's awesome and it's free which is unheard of. The history behind it is amazing and it's the biggest free festival I've ever been to. There are always great acts that play, so we get to see other acts that are inspiring. It's definitely one of a kind and probably my favorite festival in California.
Do you have a memorable Outside Lands story to share?
The year we played (2010) was great because we played directly before Modest Mouse, even though it was on a different stage, and right after Built to Spill. Edward Sharpe and Damien Marley were the headliners the day we played, and we actually shared a door in our dressing room with Damien Marley's group. We were doing an interview and people kept coming into our room from his crew asking for various things like tea and where the bathroom was. I think we even got that on video. Edward Sharpe was really good live, too. We had a great time.
October is an exciting month for you. Your fourth studio album, I'm A Stranger Here, is set for release on October 29th.
It's gonna be a good month. After that we're headed out on a tour of the whole East Coast and Midwest and then go West for New Year's—two nights in Santa Cruz at the Catalyst and two nights in San Francisco at the Fillmore. After that, we're going on a full West Coast tour.
This album has a very dark, raw, gritty sound to it with a lot of horns and violins that sound like drunken saloon music. The very first track, "Stranger," starts with a gospel-like howl. The song "40 Days" also features the Preservation Hall Jazz Band and there's a generous amount of electric guitar. You had the Buddy Miller produce it. How much involvement did he have with the music?
Buddy Miller produced it at Dan Auerbach's studio in Nashville. It was really great, and we are really excited to release it. Buddy actually played some guitar on it—he plays an amazing baritone. It was really awesome to have him on the record and he linked us up with the Preservation Hall Jazz Band, which is a New Orleans institution. We were really honored to have them.
Did you drink a lot of Tennessee whiskey during the process?

To be completely honest, we were so busy recording we hardly did any drinking at all. We recorded the record really quickly and did everything live. Everyone had to be there at the same time, every morning. But we did have a chance to have a bit of fun. We actually went to Nashville last week for our new label and played the Americana Music Awards and Buddy came out and played with us.
It seems to me that musicians are lot more tuned into the music these days. It's less about the sex and Drugs, and more about the rock 'n' roll.
Musicians these days have to be a lot more involved with their careers. Back in the day bands had management companies that took care of them, they had more money and fame and there wasn't as much weight to what happened to your career. Nowadays it almost all falls on the musicians and with social media sites and the Internet it's really all up to them how far they want to go. I think it's great to have more control, even though there isn't as much money out there.
I think it also gives a band more gratitude when they finally find success. Like the Devil Makes Three, for instance, started out playing Henflings in Felton and now you're selling out the Fillmore.
It's true. We started below the bottom, where no one would even give us a show.
It's been four years since you've released a record. The lyrics on this album seem a little more dense and more personal. Did you take a different approach with this record?
Honestly, I'm not totally in control of that kind of thing. Ideas come, some are great and some aren't. I just pick and choose the ones that speak the most to me. This album is darker, like you said, and that was coming through more, so we may have decided to steer in that direction. I worked really hard on the lyrics on this record and did a lot of self-editing. That's something I haven't done a ton of in the past. I usually just let it out and see what happens. But with this record I took a lot of time going back and making sure that it was what I really wanted to say. So, that was a new experience for sure.
You have a large cult following, for instance Port Townsend, Washington, is waiting for you to stop through. Do you keep specific towns in mind when booking shows/tours?
We do. We have a booking agency, but we make it a point of playing small towns because we have so much fun there. We've always played small towns and feel like if we're driving by, we should play. And we still do it because we've built up an amazing following that way. We're also all from really small towns, so we like to make a point to pay our respects. We all appreciated when we were younger, bands stopping to play in our town. We don't have that rock star mentality that we're too big for any town.
I've always been curious—how did you come about the name, Devil Makes Three?
Well there were three of us, and we were arguing over a band name in Santa Cruz. Lucia's old roommate came up with the name Devil Makes Three, and we just kind of all simultaneously agreed, which is really hard because everyone has their own opinion. We aren't even in touch with her anymore, but she's accredited with our band name.
Devil Makes Three performs at 2:45pm on October 6 at Hardly Strictly Bluegrass. More info and the festival schedule.