Q&A: Rebecca Gone Bad of Happy Fangs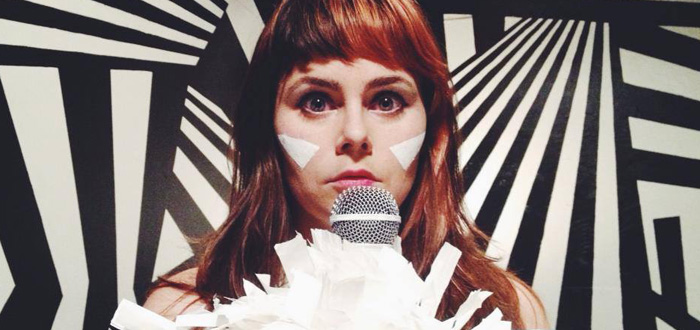 The vision of masterminds Rebecca Bortman and Michael Cobra, Happy Fangs strives to make the most out of a guitar, a drum machine and powerful set of lungs.
The catchy chorus of their first single "A Lion Inside You" from their new EP, A Lion Inside You, is indicative of Happy Fangs' ambitious and rowdy nature. Decked out in war paint, their sound wavers between the Go-Go's and Mindless Self Indulgence, ensuring an experience promised to leave a mark. We caught up with Rebecca Bortman, aka Rebecca Gone Bad, to talk about the band's formation and their plans for the CMJ Music Festival in New York this month.
Happy Fangs plays Rickshaw Stop for their EP release party on October 2.
I first noticed you when you played SF Station's The Lineup…
We're pretty distinct, and there are only two of us and we wear war paint. We choose war paint because we are stuck in such a cosmetic age.
You and Michael come from different musical backgrounds. How did you two link up?
My last band was called My First Earthquake. It was very poppy with quirky lyrics with a lot of synths. Mike's band, King Loses Crown, still opens for all these crazy industrial metal bands and we are both front people. One of the things I was yearning for was someone to almost compete with, or at least match me on stage as far as energy level and excitement. Its so much fun to have someone on stage that giddy, or a bruiting giddy I should say.
So having two front people doesn't ever complicate things?
No, we always joke around that Mike is a goat; he'll find the highest part of the stage and just stand there. Actually at the Rickshop, a year ago, he found this old piano that looked like it was five minutes away from being splinters, and he jumped on it and played. That's part of the fun, we can do snow angels standing up. Spatially, we could potentially both do standing snow angels.
What was one of the quirkiest shows you've played?
We played a Hanukah show and covered the Ramones, "Merry Christmas I don't Wanna Fight Tonight."
And no one was offended that you played a Christmas song at a Hanukah party?
It was officially a Hanukah party but there was Christmas music playing. And once they saw our Hanukah sweaters they were like latke batter in our hands to play any song we wanted.
I love Latke's.
Hanukah actually starts the day after thanksgiving this year, so you'll have plenty of time to eat them.
But I'm not Jewish. Could I just marry into a Jewish family and eat Latkes forever?
It doesn't work like that. I guess the short explanation is that it's the opposite in a lot of religions; they won't just let people convert. If you want to, you have to ask three times for them to consider your offer.
So not only are you Jewish, but your mother is a psychiatrist. You were born to blow minds.
Can you please put that in the interview?
Done, so back to the music. You guys have this electro-punk vibe thing going and play as a two-piece, kind of like Sleigh Bells but with more 80s influence. How did the idea of limiting yourself to a drum machine come about? 
We went out and bought a drum machine because of its limited capability. We actually didn't meet in person for a while and started writing songs over email. When I told my last band I was leaving, they informed the other band that we shared a practice space with that I'd no longer be paying rent. Mike contacted me and said he hoped I wouldn't stop playing music. I just told him I was pushing for new projects.
I was also kind of fantasizing about having a small and stealthy band that I could play exotic places like New York, which is now a dream coming true. After that, Mike sent me some songs and I recorded vocals on Garage Band and we just started making stuff. And then we held these long, State of the Union, 'this is what I want my band to be like' talks, and we just clicked. It's really cool to have two band members; we really get shit done and just plow through things.
It almost seems like you guys are challenging yourselves, taking a less-is-more approach.
Yeah, I'm glad that comes through. It's a challenge for us. We're both designers, we love to make stuff, but what's the point if you don't have a problem to solve with what your creating?
The problem can be solved with the music we create for the people, and in our case, it's making music for people to dance to. I guess you could say we are devolving by using a drum machine, and not using crazy synths. We're keeping it simple and constraining ourselves to see what we can make.
Where do you see this musical relationship going?
My hope is that the biggest thing I'm going to do, I haven't done yet. I'm learning as I go and I'm excited that he has such different experiences to offer. I originally wanted to call the band "World's Best Dad" because he seriously is. But he thought it wasn't punk enough.
What's the craziest thing you've seen at one of your shows?
Um, well My First Earthquake had a guy who always wore Tron gear. He was a really avid follower of us.
Your new single, "A Lion Inside You," is gaining a lot of press, most notably through CMJ. You guys are actually going to New York to play the CMJ Music Marathon. Tell me more.
We have an official showcase on October 19th. I've never been there, but I'm hoping we can get people rowdy about coming to our show. I've heard it's really fun. There's a lot of networking and kids and adults who do college radio. I've been to SXSW, but I think this is a more urban environment, and you still get that enclave of different.
I was an art director of a film festival in SF, and I think it's interesting to see the filmmakers as an embodiment of their film. In our normal life, that's what we do on the side, but at a festival that is who you are and it represents you. So I'm excited about that. The other thing about Happy Fangs, we've been playing for about a year and only had one song online, and now we have seven songs that we can market!
How did you get your nickname, Rebecca Gone Bad?
This band allows me to be bad. And my momma always told me I'd be a heartbreaker. I've broken a lot hearts over this part year, sometimes my own. I even just quit my day job.
I'm envious of you. 
The main joy of making music is getting to meet people and get out there. I've been working hard on design for a long time, so it's nice to take a break and focus on music. I spent Tuesday afternoon asking people if they wanted to put posters in their windows, and they were really interested in us, and our band. It was really cool to quickly engage on a normal level with people.
How receptive are your parents? Will they come and see you play in New York since they live in Pennsylvania?
They will always support me no matter what. I warned them that they weren't gonna like Happy Fangs, but they were like, "we'll love anything you do!" With my other band, My First Earthquake, my mom thought she could relate. She'd say, "You were my first earthquake!" I think this band is a little different.
Happy Fangs perform Oct. 2 at Rickshaw Stop. Details.