Rock the Bells returns to Shoreline Amphitheatre this weekend with its most ambitious lineup to date—two full days of music and virtual performances from rap icons Ol' Dirty Bastard and Eazy E.
Inspired by the suprise hologram Tupac performance and Coachella 2012, RTB founder Chang Weisberg worked with tech companies AV Concepts and Play Gig-It and to bring the two rappers back to the stage with virtual performances for the festival's tenth anniversary this year.
"It's much bigger than hip-hop what we are doing here with these virtual performances," Weisberg told SF Station affiliate Metro Newspaper during a phone interview. "The families are involved and there's DNA in the performances through the avatars. It's taken on a much bigger persona for the show."
GIVEAWAY: Enter to win Tickets to Rock the Bells
In addition to the virtual performances from Eazy E with Bone Thugs-N-Harmony and ODB with Wu-Tang Clan, headliners this year including Kid Cudi, A$AP Mob, E-40 & Too Short, Black Hippy with Kendrick Lamar, Juicy J and Deltron 3030. The festival also dabbles in dance music this year (or "electronic hip-hop" according to Weisberg) with mashup producer Girl Talk on Sunday and Chase & Status performing Saturday.
The festival is also the first appearance by Too Short and E-40 at Shoreline since a disastrous KMEL Summer Jam in 2004. They were scheduled to perform last year, but their set was cancelled last minute with no explanation. Sources say they were banned from the venue until this year.
Set Times: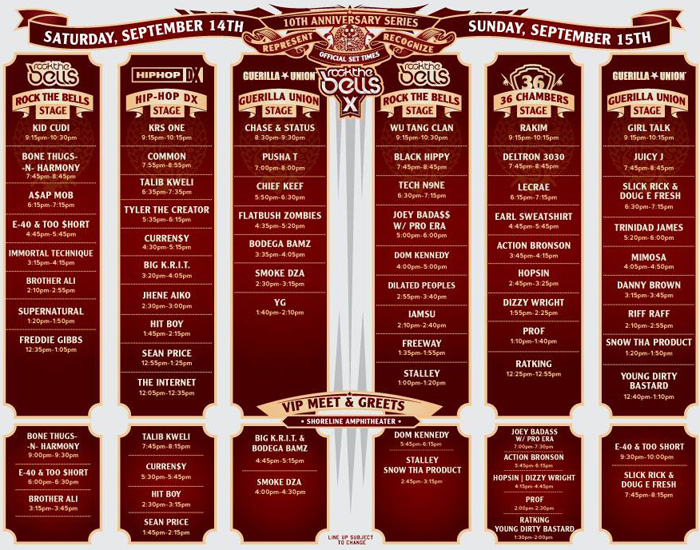 Stage Layout:

[Photo Credit: RZA at Rock the Bells 2012. Photo by Jennifer Anderson]