Giancarlo Paterlini and Suzette Gresham, co-owners of Acquerello, are introducing a new casual, ingredient-driven restaurant on Polk Street called 1760, which opened Monday night.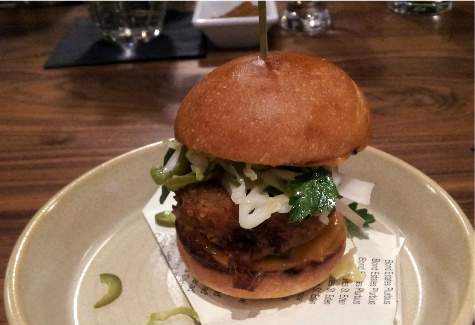 1760 is being led by Executive Chef Adam Tortosa, who previously worked with Michael Voltaggio at INK in Los Angeles and also at the highly-acclaimed Japanese restaurant Kiwami in Studio City. The menu features dishes, both large and small, meant to be shared. In speaking with Gresham during the restaurant's soft opening, she said the restaurant will have a feel of a fun, neighborhood gathering spot, where guests can grab a quick bite at the bar or enjoy a full dinner. Dishes are sprinkled with influences from around the world, although it's easy to see Tortosa's time spent in kitchens focusing on both Italian and Asian cuisine. From the Sliced Hamachi with pluots, yuzu kosho and puffed rice to the Bucatini with uni, garlic, red pepper and bread crumb, there is a nice mix of both lighter fare and dishes that are a bit more hearty and filling. Dishes are all reasonably priced as well, ranging from $10-22.
The cocktail program is led by Bar Manager Christopher Longoria, who previously spent time at Aziza. The two cocktail menus are actually very reminiscent, with more of a focus on ingredients, from fruits to spices and fresh herbs. "The cocktails are the same flavor aspects as what we were doing at Aziza, but we're using a few more techniques," Longoria said. From sous viding the components in the Strawberry Shrub (strawberry, herbs, honey-viognier vinegar, dry vermouth, Strega, vodka) to using special Campari ice cubes in the Pear-Ginger Cocktail, the cocktails are vibrant and full of flavor, with less of an attention to being spirit-driven.
The overall design and feel of the restaurant matches the menus, exuding a neighborhood vibe and relaxing, comfortable space. The very modern look plays off the space's natural lighting, with both tables, communal seating and a large bar area. The restaurant, which seats about 75 in total, also has a very cool open kitchen, the center of the space, overlooking the entire interior.
1760 is located at 1760 Polk Street (at Washington Street) and is open nightly for dinner from 5:00-11:00pm. There are also plans to eventually do brunch service as well.