Spice Kit's Wilfred Pacio Brings a Fresh Take to Asian Cuisine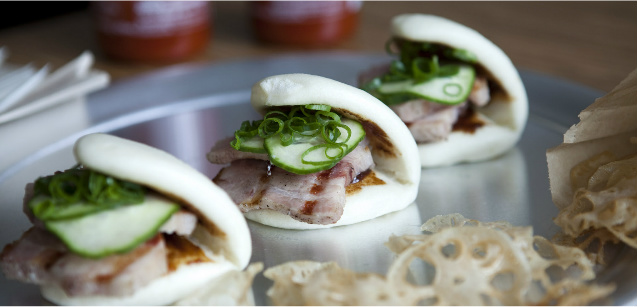 With a history in fine dining, some would think the team behind Spice Kit would have gone the way of luxury. But founder Wilfred Pacio went in the opposite direction.
"Working in the kitchens at French Laundry and Per Se and the experience our other chefs have had, we all have learned about the techniques used in fine dining restaurants. But I think more importantly, we learned about the produce being used and the relationships developed with local farms," Pacio said. "I thought this format made a lot of sense for me. I wanted to make simple Asian food that displayed simple Asian food profiles that even the most non-adventurous people can wrap their head around."
Spice Kit, with locations in San Francisco and Palo Alto, focuses on quick service in a casual environment, while maintaining a high standard in both techniques used in the kitchen and ingredients used at the restaurant.
Pacio grew up in Ohio and his mom was a chef and loved to cook. While Ohio and much of the Midwest may not be a hotbed for Asian cooking, he found that he ended up eating the food of his culture.
"I remember being groomed to love cooking," Pacio said. "I would be by my mom's side when I was four or five years old. We grew Filipino vegetables and I think at an early age, I really trained my palate by tasting things like balut and tripe."
Family meals and cooking in the kitchen were always seen as an important time in Pacio's family, as were the huge parties that they occasionally threw.
Taking some of what he learned growing up and some of the skills and lessons from his previous restaurant experience, Pacio has developed a restaurant that he hopes everyone can enjoy. While the menu may seem simplistic (with guests choosing to create a banh mi sandwich, Ssäm Korean wrap, rice bowl or salad), the process of bringing in the best ingredients possible and techniques from pickling to creating sauces is what one might find in any high-end restaurant. "I didn't want to just make some Americanized Asian food," he said.
Pacio said that with more and more diners and chefs, traveling to Asia, it has diversified the palates of Americans, both in terms of casual dining and at fine dining establishments as well.
"More and more people are exposed to those flavor profiles and now there is a real audience for it," Pacio said, especially in the Bay Area, which has such a diverse Asian population and also, hugely diverse pockets of Asian food.
Pacio and his team are participating in the Lucky Rice Festival at the Ferry Building on Friday, an event he said he sees as an important way of "creating awareness of Asian food in America." His dish for the night is a Taiwanese Corn Soup. Spice Kit in San Francisco is located at 405 Howard Street and in Palo Alto at 340 South California Avenue.
Photo Credit: Spice Kit