Kronuts Go Viral at Fillmore Bakeshop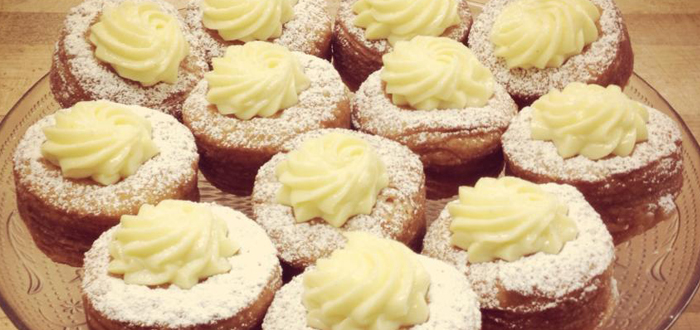 UPDATE, AUGUST 26: Apparently pastry chef Dominique Ansel, who just landed a sweet book deal, isn't happy about the viral spread of his creation to other cities. Fillmore Bakeshop reported this morning that lawyers asked the boutique bakery to stop using the name "Kronuts" for its Saturday morning special. Here's what the bakery posted on its Facebook page:
"So we guess this is 2013's East Coast-West Coast battle? We have officially been asked to no longer use the name "Kronut." So please take note: from now on, the fried delight formally known as the "Kronut" shall henceforth be referred to as the "SFonut" by we here at the Fillmore Bakeshop (or at least until we get another letter from someone's lawyer). And to think only a few weeks ago so few even knew we existed!!"

AUGUST 22 REPORT: The father-daughter team of Doug Basegio and Elena Carpenter is helping to fuel San Francisco's fascination with Cronuts, offering a limited-edition version of the pastry Saturday mornings at Fillmore Bakeshop.
The Cronut, trademarked by New York pastry chef Dominique Ansel and served in her SoHo bakery, went viral this spring with a croissaint-doughnut fusion. It was only a matter of time before it arrived in San Francisco, first with Posh Bakery's Cronot and now with the Kronut from Fillmore Bakeshop.
The duo at Fillmore Bakeshop debuted their first batch of Kronuts on Aug. 10 and quickly sold out with 100 orders. Last weekend, 300 cinnamon Kronuts were gone in 45 minutes.
"The response has been pretty overwhelming," Basegio says.
This Saturday, the bakery is prepared to serve 500 custard-filled Kronuts from 9am to 10am for those willing to brave a big crowd.
Basegio, an old-school baker with 47 years of baking experience before he ever heard of a Cronut, is getting a first-hand education in Internet trends with the hip, new pastries.
"It's kind of crazy," the 62-year-old told us in an interview. "It's a whole generation of foodies and hipsters and all of that."
Basegio says curiosity and an interest in trying new things led to the debut of Kronuts—plus, San Francisco couldn't just sit and watch as versions debuted in LA and other cities.
"I'm not a doughnut shop, but I am kind of one of those people who is in love with the trade," he says. "I was curious and my daughter was curious and we did a little research and tried it out."
Basegio says the bakery will likely increase Kronut production, but the viral treat won't overtake other products—specialty pastries and pies—at the modest 1,000-square-foot shop.
"We'll probably expand it, but we already have a very viable business," he said.
Plus, he's not a fan of the lingering deep fat fryer smell: "Do I want to stand in front of a deep fat fryer all day long even if you said 'Doug, I'm going to make you a fortune'? I'm not that interested in all of that. I don't want to make them all day."
Other offerings from Fillmore Bakeshop (via Facebook):