The San Francisco Street Food Festival can be a bit of a daunting experience. There are large crowds and tons of food options—it can all be a bit overwhelming. We're here to help with a guide with some unique items we're excited to try on Saturday.
Azalina's – Penang Peanut Taco
Azalina Eusope has been pleasing hungry patrons with her Malaysian cuisine at various food events, pop-ups and Off the Grid events over the last few years. Her dish at the Street Food Festival includes a scallion flatbread and chicken curry lardon, topped with her coconut jam.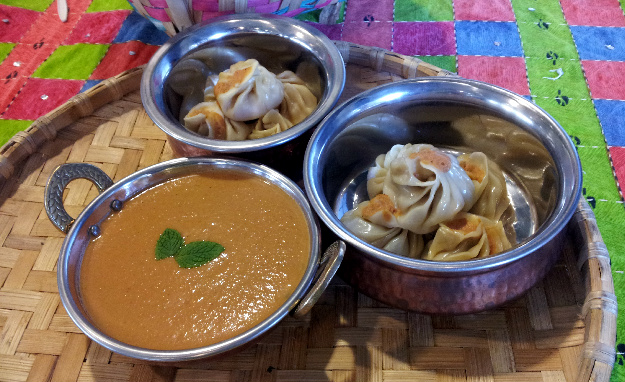 Bini's Kitchen – Turkey or Vegetarian Momos
Binita Pradhan has done lots of catering and became a part of the Off the Grid: Fort Mason lineup this year. Her food from Nepal is filled with spices that she makes on her own and influenced by what she learned from her mother, a former royal chef in Nepal. Momos are a tasty Nepalese dumpling, with dipping sauce included.
Central Kitchen – Pig & Bunny Banh Mi
One of the more interesting aspects of the Street Food Festival is that restaurants that normally serve the furthest thing from "street food" produce fun dishes for the event. Such is the case with Central Kitchen and their "Pig & Bunny Banh Mi," which is sure to have a mix of street food and technique-driven style as well.
Hella Vegan Eats – Doughnut Burger
Is there really anything to say? It's a vegan burger with two sugar doughnuts serving as the bun.
Il Cane Rosso – Spicy Pickled Quail Egg
One of our favorite dishes last year was the Scotch Egg from Il Cane Rosso. In fact, all of the egg dishes at the Ferry Building space are pretty terrific. We're Excited to try this small bite from chef Lauren Kiino.
La Luna Cupcakes – Cake Pops
These sweet treats are like a lollipop, with homemade cake, blended with frosting and dipped in either white or dark chocolate. On Saturday, four flavors will be available: vanilla, chocolate, red velvet and mocha.
Namu Street Food – Okonomiyaki
For those that don't know what okonomiyaki is, it's a wonderful Japanese savory pancake, usually with a mix of eggs, cabbage and flour as the base. Namu's version includes kimchi and scallions and is topped with kewpie mayo and tonkatsu sauce.
Pinx – Bananas Foster Waffle
One of the longer lines last year was at this stand. And they did run out of waffles, if memory serves us correct.  The waffles are a mix of the best of breakfast and dessert all wrapped into one.
Scenes from previous Street Food Festivals: