Review: Justin Timberlake and Jay Z Ignite Candlestick for Legends of Summer Tour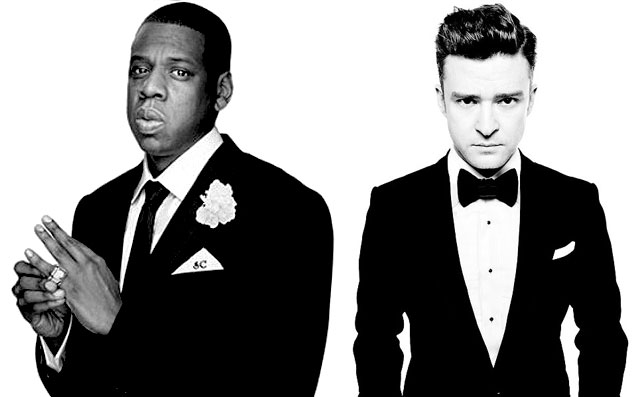 Pop superstar Justin Timberlake and New York hip hop mogul Jay Z brought life back to Candlestick Park on Friday night for a rare hit-filled concert at the venue with their "Legends of Summer" stadium tour. Their two styles blended harmoniously and seemingly effortlessly throughout an extravagant evening of back-and-forth R&B, pop and rap.
A diverse audience of all ages piled onto the grass football field and seats and seats at the aging stadium for one of most anticipated concerts of the season—one that sold out almost immediately.
The dramatic "Holy Grail" opening (the first song on Jay Z's new album Magna Carta Holy Grail) with both artists was followed by Timberlake favorites, such as "Pusher Love Girl" and "Summer Love". After playing piano and guitar multiple times, Justin's serenade on "Cry Me a River" and masterful moment on "Mirrors" were only topped by his extended rendition of "SexyBack" complete with frantic laser spotlights. Jay Z had everyone bouncing like a club scene during "Ni**as in Paris."
http://youtu.be/2YcIgow6TDk
There were no special appearances from either artist, which kept the spotlight on them and the momentum in their favor. A full band, including drummer and electric guitarist, along with numerous backup singers, backed the duo throughout the night.
Jay Z's performance with JT probably one-upped the Brooklyn rapper's Coachella appearance in 2010 in part because of the extended set time that contained both freestyle solos and collaborative word play with Timberlake, but also because of the much-improved lighting and visuals that added to the performance. Old jams like "99 Problems," "Public Service Announcement" and "Heart of the City" synced compellingly with his new flows from Magna Carta Holy Grail, including his authoritative "Tom Ford."
It's not clear that either artist could have attracted over 50,000 fans to Candlestick on their own. But when choreographed together with a booming sound system and laods of big stage visual entertainment, it was easily the most memorable and enjoyable concert performance there in recent years.