Free wireless Internet access will soon be an easier thing to come by in San Francisco thanks to a major gift from Google Inc.
The tech company is gifting $600,000 to the city for equipment set up to offer free Wi-Fi capability at 31 parks, plazas, recreation centers and open spaces around San Francisco. Installation could begin as soon as December, with a target of getting things online at all the sites by next April.
San Francisco Supervisor Mark Farrell, who spearheaded the partnership with Google, said the goal was to "reach areas of high visibility, but also high usage." Some of the sites on the list include Mission Dolores Park, Justin Herman Plaza, Marina Green and Civic Center Plaza. According to Farrell's office, he has been working with Google over the last two years to try to secure the partnership.
Sf.citi will work with the city's Department of Technology to install and maintain the equipment.
In 2007, then Mayor Gavin Newsom attempted to wire the entire city, but a proposed deal with Earthlink and Google fell through. Because of the contentious nature and fallout from that proposal, Farrell said he wanted to select a few areas that would affect the most people before hopefully moving on to an ultimate goal of providing free Wi-Fi service across the city.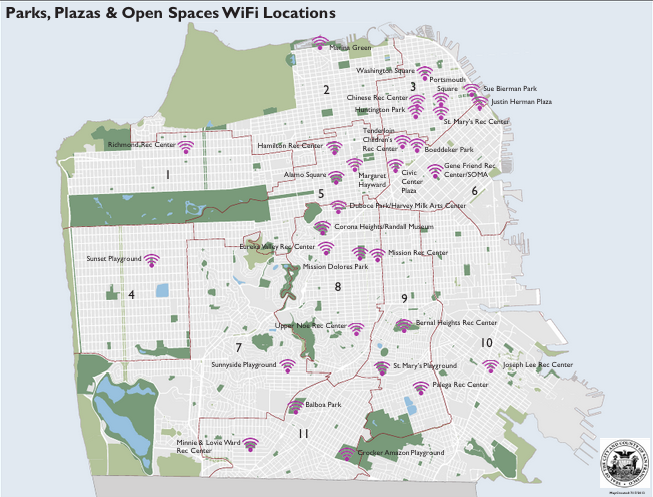 ALAMO SQUARE
BALBOA PARK
BERNAL HEIGHTS RECREATION CENTER
BOEDDEKER PARK
CHINESE RECREATION CENTER
CIVIC CENTER PLAZA
CORONA HEIGHTS
CROCKER AMAZON PLAYGROUND
DUBOCE PARK
EUREKA VALLEY REC CENTER
GENE FRIEND REC CENTER/SOMA
HAMILTON REC CENTER
HUNTINGTON PARK
JOSEPH LEE RECREATION CENTER
JUSTIN HERMAN PLAZA
MARGARET HAYWARD
MARINA GREEN
MINNIE & LOVIE WARD REC CENTER
MISSION DOLORES PARK
MISSION REC CENTER
PALEGA RECREATION CENTER
PORTSMITH SQUARE
RICHMOND RECREATION CENTER
ST MARY'S REC CENTER
ST MARY'S SQUARE
SUE BIERMAN PARK
SUNNYSIDE PLAYGROUND
SUNSET PLAYGROUND
TENDERLOIN CHILDREN'S REC CENTER
UPPER NOE RECREATION CENTER
WASHINGTON SQUARE
Click here for more info on soon-to-be Wi-Fi friendly spots.
Photo Credit: Aristóteles Sandoval via Wikimedia Commons