Le Marais Bakery owner Patrick Ascaso was influenced by not only his upbringing in France, where patiserries are often a common meeting place in towns across the country, but also from San Francisco's most famous pastry shop/bakery across town.
"I love Tartine Bakery. It is my favorite spot in San Francisco. It's one of those places where I'll just drive across town each day to grab a croissant," Ascaso said. "So my idea behind Le Marais was to answer the question, why can't there be a similar bakery on this side of town?"
A retired business executive, Ascaso reminisced about the pastry shops and bakeries in France, where residents in town would often line up at all parts of the day for not only fresh baked goods, but also for the camaraderie, as it was often one of the main gathering spots in small towns. He said he sees the same for his location in the Marina. San Francisco design firm Paxton Gate jumped on the theme of mixing France and California – local redwood beams, cabinetry and benches are main design features as is the sunroof, which illuminates the bakery. The floor pattern gathered inspiration from Le Marais itself – a historic quartier of Paris – filled with boutique shapes and bakeries. There is a real feeling of old world Paris combined with new world San Francisco, making it an easy fit in either setting.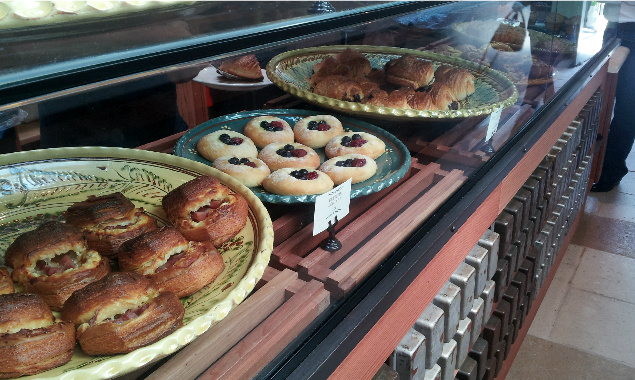 Le Marais head pastry chef is Phil Ogiela, who has worked at both Aziza and Presidio Social Club in San Francisco while head boulanger Justin Brown spends morning and evening making a daily selection of breads. Like the rest of the bakery, Ascaso said the menu will be a mixture of French and California. "Many of the items will have a French feel, from the natural levain for the bread, which will include a country loaf, chocolate levain and 'tradi' baguette. From the gâteau to the brioche, it's a lot of the pastries I grew up with and love to this day," he said. "But there is also a very farm-to-table philosophy here – we're trying to use as much local produce as we can from Bay Area organic farmers – places like Dirty Girl Produce, Star Route Farms, Cowgirl Creamery and Llano Seco Ranch – sustainability and being environmentally responsible, while also making fresh, wonderful products."
A wonderful mix of sweet and savory can be had at the Marina's newest pastry spot, Le Marais Bakery, which is located at 2066 Chestnut Street and open daily from 7:00am – 7:00pm .