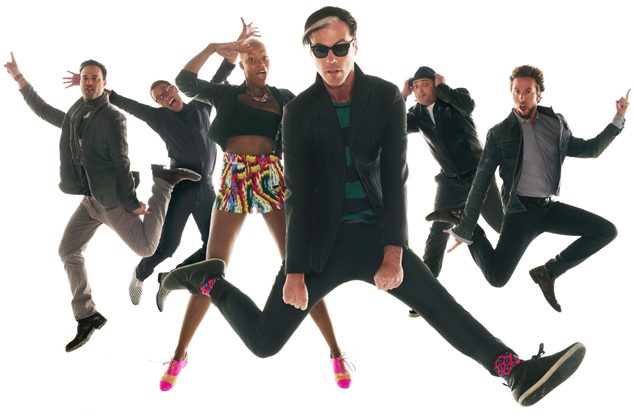 Fronted by vocalists Michael Fitzpatrick and Noelle Scaggs, Fitz and the Tantrums put a twist on 80s synth-pop with R&B and soul grooves, supplied in part by multi-instrumentalist James King.
We spoke with King—who fills in many of the bands live solo duties with saxophone parts and also contributes on flute, keyboard, percussion and guitar—to discuss the band's well-known and energetic live performances and new styles introduced on their sophomore LP, More Than Just a Dream. Fitz And The Tantrums perform at Warfield on July 28.
In five years, Fitz and The Tantrums has gone from touring small clubs to now headlining the Warfield. Does it seem like things are moving fast as the band gets more successful or not fast enough?
It feels like warp speed at this point. We're hitting every place that I've ever wanted to play or have heard of in every major city. It's been blindingly fast furious and a lot of fun.
You seem like a band that should be experienced live. How often are you on the road now and how has your show evolved over the years?
We've always been a live band when it comes down to it. Our first record was heavily influenced with sort of a Motown vibe and a lot of people got that feeling. It was just a reflection of the energy we brought to the stage. Since this new record is more contemporary—more of an 80s referencing sound—we've still got the same energy, but it's a bigger sound with more electronics.
The band started off playing at Los Angeles clubs. Describe that first performance at Hollywood's Hotel Cafe?
The hotel café is where the singer/songwriter theme of LA is pretty much centered. On that stage on any given night, you can see two or three different acts: solo guitar and singer or a great big blues band. But it's on a tiny stage and you don't know how it's going to go over. It's very intimate with a couple of tables, people crammed in and arms crossed in that classic LA audience fashion.
When we played there, we had no idea how it was going to go over and we really didn't have that many songs at that point to do a whole set. We had a few songs we had recording in our first EP and we put together some other material and made it happen. We look back on that fondly. There was some kind of energy; we didn't know what was going on, but we knew it was going to have some legs. It just went from there. There were maybe 30 to 50 people there that night, but it was important to us. It established our minds that we were going to be a live act not just holed in a recording studio.
You're out front playing sax solos a lot. What's the biggest influence on your style?
I grew up with a jazz musician father who started by taking me out on his gigs. I was playing in bars, weddings, clubs from the age 13 so I've been doing it for a long time, and I've had this thing called "fly" on stage. You kind of get trained to do as a live musician especially in jazz.
I majored at jazz performance at Cal Institute of the Arts and that is my formal training. The entire time, I've been playing with different bands varying from surf rock to reggae to jazz and salsa music and everything in between. As far of influences, I've just taken in so many legendary recordings. Eddie Harris is my favorite horn player, but I've listened to everybody and try to make it my own thing.
How did you get introduced to Motown and soul music?
It's funny, when you tune into the oldies station now you get Hall and Oates, Elton John and Nirvana depending on where the station is coming from. When we were kids, the oldies station meant classic Motown and doo-wop. That was my first exposure—Junior Walker, Temptations, The cloves, early R&B. Those things seeped in early as a young child. The main influence in that regard is my mother's Stevie Wonder Record, which I own to this day. My favorite record as a kid was Songs in the Key of Life. On that point, I dug into his earlier material that he recorded as a kid. Everything on his label was making me move.
You introduced Noelle Scaggs to the group. How did you meet her and why did you think she would be a good fit?
I recorded in Noelle's earlier project—a band called the Rebirths, which was a sort of a neo-soul outfit in LA that did a lot of work around town and abroad. I recorded on their record This Journey In, I met her at those sessions and we just hit it off. A few years later, I went on tour with her and we got to talking about music we had in common. When we got back in town from that tour, it was soon after I got the call from Michael Fitzpatrick and he asked me if I knew a singer. She was fresh in my mind at that point.
Do you have any favorite stops in San Francisco during down time here?
We're there so often, it's hard to pin down one thing. I like driving around the Presidio. I have friends out there and good memories of it. I love North Beach, eating there— and over-eating there. The restaurants, for sure.
You've opened for big acts and toured with many other artists over the years. Which tour was the most educational for you?
We are opening for Bruno Mars right now and that has been a mind-blowing experience. Just to see that someone that firmly planted in the mainstream can also be such a composite performer, musician and all around good person. It's very inspiring. We're witnessing a stage production on a level we've never been around before. Pyrotechnics, great lighting and everything that's involved in that. At the same time, the band is so tight and everything is so good it's pushed all of us to do our best and make our show more of a show.
What was the reasoning for including new styles like hip-hop and electro in your newly released sophomore album, More Than Just a Dream?
I think after touring in such a Motown-referencing position and instrumentation after so many years, we were all hearing the sounds that we were missing in our heads—the things we've grown up with. All of us have roots in all of those genres. We just wanted to incorporate anything that was a part of us into the record and see if we could still make it sound like us.
Does Fitz have a pre-show routine?
Nothing in particular. I do a few warm ups on that horn and Noelle does her vocal runs. Lately, [we have been] carrying a Bluetooth speaker and blasting Michael Jackson Off the Wall. That seems to get the blood flowing.
If you could put your life on pause and take a vacation right now, where would you go?
Well, my wife and I just booked a trip to Greece today, so the countdown has begun on that. We're finally going to go to our dream destination.