Q&A: Anya Kvitka from Anya and the Get Down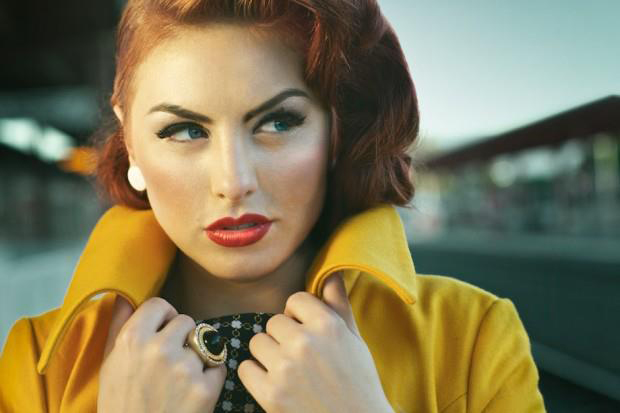 Anya Kvitka and her band, Anya and the Get Down, are one of the few bands to emerge out of San Jose's music scene in recent years to gain a following outside of the South Bay.
With a performance at this year's BFD, a new album in the works with a variety of stylistic influences and her first headlining show at Great American Music Hall on June 20, this year is shaping up to be a big one for Kvitka.
We talked with her to about her childhood move from Russia to the U.S., her experience with Kickstarter and playing BFD.
You've released several singles and videos over the past year, are there plans for a new record?
There was an EP released last summer and we have a single called "Maybe," which we shot a video for through Kickstarter. I raised $5,000 and we completed the song, which is out for people to see. We also shot a new one called "One Less," which no one has heard. We are releasing singles with hopes to release an EP in August featuring that song.
You're from San Jose. How would you describe the music scene there?
There's a budding scene here, but it can be stifling at times because it's a very big small town.  The music scene has been in San Francisco's shadow for a long time and overshadowed by all the technology-related things. That's primarily how people know this area as.
The arts have taken a back seat and people are getting tired of it. There are some amazing things happening with bands like the Trims and Curious Quail, who we just played BFD with, and the Limousines—they kind of set the example for me and have been very helpful.
It has a lot of potential and is on the brink of really standing out on its own. I think here it's also easier to be noticed because there's a lot of people, but less competition and less noise.
Did you grow up there?
I was born in Moscow, right before the Soviet Union collapsed and then I moved to Cupertino in this apartment where we had to rent furniture because we were super poor. My step dad started working in the dot.com industry and he's now the president of Evernow and pretty successful, but my parents were always working when I was a kid.
I think that's why I got into music, because I had nothing else. I started playing piano when I was still in Russia with my neighbor who was this older Russian woman. So when I came to the states I took shelter in the piano and started excelling at it.
I was naturally inclined with music so my teacher started entering me into competitions, but I didn't really buy into that mentality. Music was my getaway from the traumatization of moving to another country and I'd always choose the most depressing complex composers. I'd be playing Beethoven's saddest sonata and loving it. That experience definitely molded my musical taste today. My music is still pretty bittersweet and playful, which could stem from my childhood.
Who are some of your other main influences?
I started playing classical when I was young, but Toni Braxton was the first CD I ever bought. I played it religiously from beginning to end because I didn't have any other albums. I don't really know what else I was listening too; I was kind of sheep. My dad smuggled records like Abba and Queen and Depeche Mode into Russia, which was super illegal, and I started listening to them once I was older. I especially loved Freddy Mercury. After that I heard No Doubt and I thought Gwen was just really inspiring. I wanted to be her.
How amazing was it playing at BFD?
Last year I was freaking out about selling out a 200 persons venue, and now we just played BFD. That was a pretty great moment, one of the best highs I've had. BFD really sort of set us apart as 'our own,' and helped us find our voice. We played all original songs and one Sublime cover, as an ode. We really discovered our vibe.
And now you guys are playing at the Great American Music Hall.
Two months ago my friend brought up the idea of playing Great American Music Hall and we all laughed. Now we're actually playing there. It's hard to look at your accomplishments and appreciate them sometimes because you're so focused on the future, but this is definitely one of those "oh crap" moments.
On your website it says you're a 'Cat Lover,' do you have any cats and what are their names?
Right now, I have no cats. I'm looking for the right cat. My oldest cat lives with my parents, and most of my other cats were eaten by Mountain Lions, but I'm definitely that crazy cat lady.
Anya Kvitka & the Get Down perform June 20 at Great American Music Hall. Tickets are $13 in advance and the show starts at 8pm.