Point Reyes Cheese Tasting Dinner at Brasserie S&P
Point Reyes Farmstead Cheese Company,  this family-run business located in Point Reyes Station, which won the 2011 award for Best Dairy Product at the Summer Fancy Food Show, partners with the Mandarin Oriental's Brasserie S&P for a special prix fixe dinner on April 24.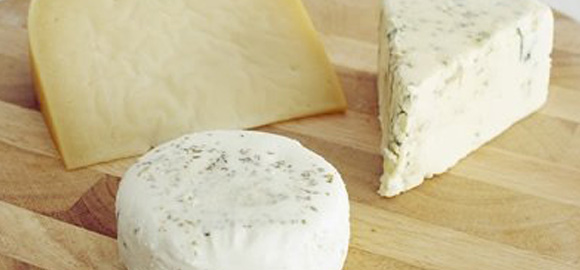 Brasserie S&P chef Adam Mali designed the five-course menu to show off the versatility of cheeses from the dairy. While three courses feature blue varieties, Chef Mali is most excited to showcase the mozzarella.
"The cheese is unbelievable," he says. It's made weekly, and Mali highlights its freshness in a salad of grilled eggplant and red pepper.
Owner of Point Reyes Farmstead Cheese Company, Lynn Giacomini Stray, is hosting the event. Like any good parent, Stray professes equal affection for all her products, but she's particularly eager to introduce people to her newest addition, Baby Blue. It's the "perfect dessert course cheese," she says. Chef Mali teases its caramel notes in a soufflé with candied almonds.
Local wines complement the meal, selected by sommelier and Food and Beverage Director for the Mandarin Oriental, Nicole Kosta.
"It was important for me to highlight the local wines of the area," says Kosta.  "After that, I just had fun and paired each dish with some of my favorite wines." She, along with Chef Mali and Stray will introduce each dish to guests.
The dinner is Thursday, April 25th at 7:00 p.m. at Brasserie S&P at the Mandarin Oriental. It costs $98 per person plus tax and tip.  To make a reservation, email [email protected] or call (415) 986-2020.  The restaurant is located at 222 Sansome Street, San Francisco.
Menu:
Reception: A tasting of Lagunitas Brewery Beers
~
Gougeres, Point Reyes Original Blue, Caramelized Shallots
Medloc Ames Chardonnay, Russian River 2011
~
Salad of Mozzarella, Grilled Eggplant, Red Pepper, Spring Garlic
Capture 'Tradition' Sauvignon Blanc, Sonoma County / Lake County 2011
~
Toma, Pancetta, Petaluma Egg on Brioche
Red Car Winery 'S&P Cuvee' Pinot Noir, Sonoma Coast 2011
~
Grilled Sonoma Quail, Spring Panzanella,
Point Reyes Original Blue Cheese, Thyme Sherry Vinaigrette
Ridge 'Geyserville Vineyard' Zinfandel, Geyserville 2011
~
Bay Blue Cheese Souffle, Chestnut Honey, Candied Almonds
Medloc Ames 'Bell Mountain Ranch' Cabernet Sauvignon 2012 Verjus cocktail
Photo credit:  Point Reyes Farmstead Cheese via Facebook