Waterbar's Parke Ulrich on Seafood and Sustainability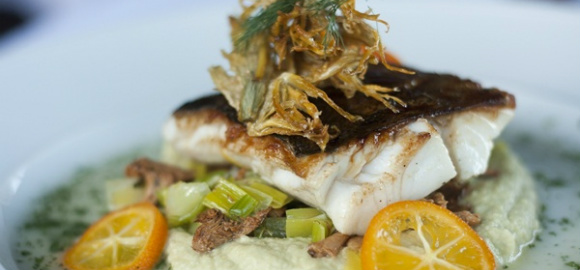 A restaurant that is as successful now as when it first opened its doors more than five years ago, Waterbar and Executive Chef Parke Ulrich continue to evolve on The Embarcadero.
Ulrich considers Waterbar an extension of what he and Mark Franz started at Farallon – a model of sustainability and a way to support local farmers, all with an atmosphere that matches the food.
"At Waterbar, we have a full-time purchaser who works with our purveyors. We are constantly in contact with them about our orders and what we will have available, but as is the case with seafood, it can be a bit hit or miss based on what they catch and have available to them," Ulrich said. "But in terms of proteins, we know where everything is coming from, from the small farms we work with to the farmer's market produce we bring in."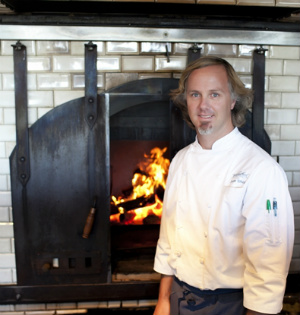 The sustainability philosophy was hatched at Farallon as Ulrich said he saw how much fish they were going through. "We had to watch what we were doing with the fish, started using the whole animal and really learned a lot about issues like overfishing and sustainability; how these fishermen were going about catching fish. So when the idea for Waterbar came about, I wanted to make it different, make it stand out."
Ulrich said he saw Waterbar as something more like a café in France, fish-oriented of course, but a restaurant that could express the true flavors of the fish they were procuring, letting the fish speak for itself. The raw bar is just an extension of the restaurant, offering up oysters that are sustainably farmed. "And I think oysters have become one of those items that truly brings people together. You get a big group with a plate of oysters in front of them, some wine or a cocktail and it's just part of the social aspect of dining that we love to see."
Previous Coverage: Oysters galore at Waterbar
Because of the availability of fish, Ulrich is constantly tweaking his menu. Although many favorites find their way back as regular items, he said he feels standard dishes can oftentimes become "boring" and make the whole staff lackadaisical. That's why he has the philosophy of including everyone in the planning of the menu, introducing items that they may have never seen before, which he remarked "keeps it fun and keeps everyone on their toes."
Waterbar's evolution has pleased Ulrich – he said it serves as a lot of things to a lot of different people – from a casual lunch spot, to a place to grab drinks and oysters at the bar to a more refined dinner experience. But he and his team are still pushing themselves; they have started a mobile oyster bar service, Oysters Adrift, catering to private events both at Waterbar and off-site. Getting "the gospel" of oysters and sustainability out, Ulrich continues to showcase fish in its purest form at Waterbar. Because of an ever-changing menu, the recipe Chef Ulrich provided may not be on the current menu, but is one of his favorites when the fish is available.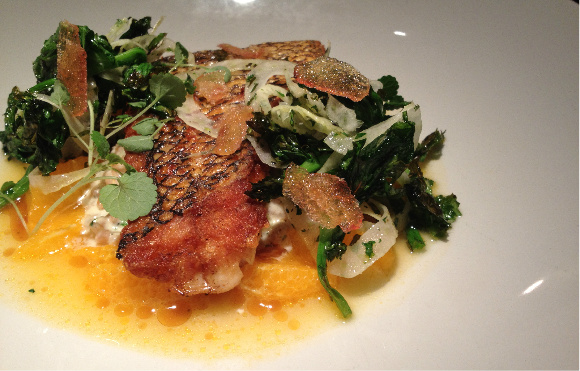 Pan Roasted Black Bass
farro risotto, tangerine, grilled pea tendrils, bottarga
Serves 4
2 c. cooked farro (or barley)
1 T. thyme, chopped
2 T. butter
1 T. mascarpone
4 tangerines, segmented
2 cloves garlic, shaved
2 oz. extra virgin olive oil
2 c. pea tendrils (or pea shoots or any other baby green)
4 – 5 oz. filets of bass
1 head fennel, shaved
2 T. chopped parsley
1 oz. cured bottarga (can be found online)
Season the bass with salt and pepper. Sear the bass in a sauté pan for 3 minutes. Flip and finish cooking in a 400˚F oven for 5 minutes.
While the fish is cooking, toast thyme in 1 Tablespoon of butter. Add farro and warm through. Finish the farro with remaining 1 Tablespoon of butter, mascarpone and parsley. The farro should be the consistency of risotto.
Warm shaved garlic in olive oil. Let stand warm.
Toss pea tendrils in olive oil, salt and pepper. Grill until tender. This can also be done in the oven at 400˚F for approximately 2 minutes.
Evenly distribute the farro on 4 plates. Place roasted fish on top of the farro. Place pea tendrils over the fish. Pour the warm oil over tangerine segments. Spoon over the top. Garnish with the shaved fennel. Microplane bottarga over the entire dish.
Waterbar is located at 399 The Embarcadero South.
Photo Credit: Waterbar