Rum Cocktail Recipes From 'the Modern Mixologist'
"Most people are intimidated by making cocktails, but they shouldn't be," says Tony Abou-Ganim, a three-time winner on the Food Network's cooking competition show Iron Chef America and author of The Modern Mixologist: Contemporary Classic Cocktails.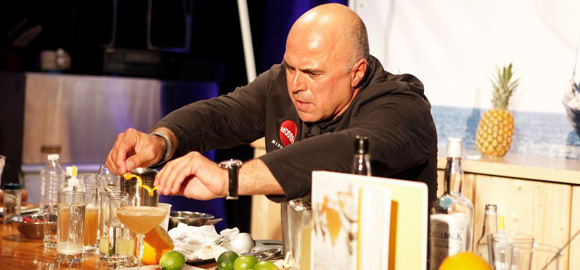 He is a wizard with any type of alcohol, but Abou-Ganim especially likes to work with rum.  "Rum, to me, is the most diverse spirit we have," he says.  In 2002, he became one of three Americans to win the Bacardi Grand Prix Award. Now, he has partnered with Shellback Caribbean Rum to visit select U.S. cities to teach guests how to craft rum cocktails at home.
"Rum has a great heritage with the sea," he explained while leading a recent class in San Francisco. During the 17th century, sailors voyaging to the tropics brought rum instead of other beverages. Water was difficult to transport and beer spoiled in the heat, but rum actually improved the longer it sat in wood barrels.
Soon after, rum punch became popular. The word "punch" corrupted the Hindi word "panch," which means five.  Basic rum punch consists of five ingredients: alcohol, sugar, lemon, water, and spices.
In his version of rum punch, Abou-Ganim swaps regular sugar for a citrus sweetener.  He crushes one whole lemon peel into sugar and allows the mixture to sit for roughly one hour. This resting period allows the oils from the lemon peel to extrude and create a sugar paste.
A twist of citrus is an easy garnish for any drink, but it's not the only one. Abou-Ganim freezes distilled water in a bundt pan to slide into his bowl of rum punch for an impressive presentation.  Distilled water frozen at a low temperature produces clearer ice, but you can use regular water too.  No matter what type of ice you use, always serve cold cocktails in chilled glasses. "Take a look in my refrigerator, and you'll find no food but plenty of vodka and empty glasses," says Abou-Ganim.
Here are two recipes Abou-Ganim shared in the class that are perfect for your next Tiki party.  To make them, you'll need a couple of basic bartending tools:
Jigger: Measuring device with two cones on either end that usually holds 1 to 1.5 ounces
Muddler: Wood or stainless steel stick used to crush herbs or fruits into drinks
Bar spoon: A metal spoon with a long shaft for stirring cocktails
Cocktail shaker: A metal shaker that covers a strainer and has a secure top
Recipes:
Milestone Mojito
1.5 oz Shellback Silver Rum
1 oz housemade ginger syrup
1 oz fresh lime juice
12-14 mint leaves
1 mandarin orange
Soda water
In a highball glass, lightly muddle mint leaves with lime juice, ginger syrup and orange segments. Add rum and crushed ice. Stir until glass frosts, then top with soda and garnish with a mint sprig.
First Mate
1.5 oz Shellback Spiced Rum
2 oz unfiltered apple juice
1 oz fresh lemon juice
1 oz cinnamon simple syrup
Ginger beer
In a shaker, combine rum, juices and cinnamon syrup. Shake with ice, then strain into a collins glass over fresh ice. Top with ginger beer.