Q&A: Mario Armando Ruiz of Teenage Sweater
With eccentric philosophies and vivacious live shows with dreamy synth pop melodies, Teenage Sweater are becoming a staple in San Francisco's music scene.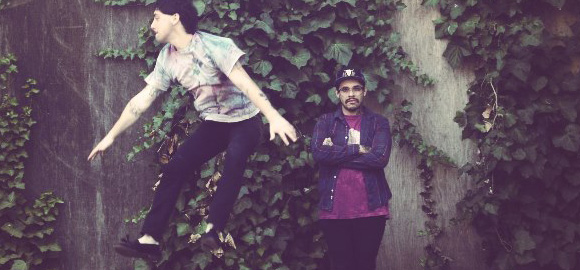 The duo recently signed to San Francisco's Tricycle Records and has a string of dates across the Southwest before hitting SXSW and returning home for local shows. We caught up with founder Mario Armando Ruiz at a taqueria in the Mission to chat about Teenage Sweater's new album Concentration, potentially meeting Dave Grohl at SXSW and cats taking over the world.
You guys just signed to Tricycle Records, how did that deal come about?
Julie reached out to us. We were featured on the Bay Bridged and she saw it and emailed us asking to play their anniversary show at Public Works. We didn't even know we were in the Bay Bridged.
We basically finished our new record before the show and I jokingly said, 'it would be really cool if Tricycle Records put it out.' And Don, from Tricycle Records, really liked us and thought we were awesome live, so he was like 'Yeah, we should do that.' I didn't even know who he was and thought he was just a fan. Apparently he was the right person to talk to.
This is your first label experience?
Yeah, it's our first real legitimate credible label. Everything else has been like, "oh my friend is putting out our tape or record," which is cool, too. We all appreciate the efforts of independent artists, but this is on a different level. It's more humbling because I've been doing this for a while and paid my dues, sleeping on floors all the time—which I'm still going to do for the next tour—but there's a little bit of payoff instead of coming home and being like, "What the fuck did I do that for?"
You're going to tour to SXSW?
It's basically super DIY until we get to SXSW, which is really cool we get to see that aspect of it. I'd love to stay in a hotel every night, but I can't afford that. If someone else is going to pay for it that would be sick, but I'm not gonna do it.
If you ran into Dave Grohl at SXSW, what would you say to him?
I don't know what I'd say. I'd probably make a fool of myself and say something about his tribal tattoos.
Do you find it difficult relinquishing control of the band? How is being signed different from being an Independent artist?
You basically put your trust in that person and that label, and that's where you feel a bit vulnerable because you aren't the one doing it. It's where I've always wanted to be in terms of the business side. It is a different stress worrying about things you aren't really sure of. You just kind of hope things go well and that they find you places to stay and whatnot.
You guys have a great live show, is that something you prepare for?
Yes, we've come a long way as a live band. When we first started playing better shows at bigger venues, we practiced like four times a week. At this point, the way music is you have to impress people. It sucks to think that way, but people's attention spans are so short because of Spotify and blogs. To make people care you have to show them something to make them remember who you are. We have actually integrated lights into our show now.
Any Fog Machine?
No, We'll let the venues do that for us.
Would you consider yourself a DJ?
No. It's a funny category to be lumped into with playing electronic stuff because there's so many different takes on it. People that don't know much about music think we're DJ's and that we're playing trance music or shit like that. We make all of our music, and there's no laptop when we play live. It's about as live as you can get for electronic music.
When you first started out it seemed to be more of a hobby, when did you start taking it more seriously?
It all started when I lost my job. I was on unemployment, and everyone thinks that's cool because you don't have to do anything, but I was really bored and still really broke. But it gave me an opportunity to go full force with music. It's kind of cool to think if that didn't happen maybe I wouldn't be where I'm at today? Right now it's my life, and it's worth it.
Teenage Sweater is a two-piece now with Connor Alfaro playing live drums. How did that change your sound and how did he join?
The new stuff is more structured, and that's mainly attributed to Connor. We're very different. He's a super big Kiss and Iggy Pop fan and never really listened to electronic music. Our passion and drive has always been the same, but we've figured out how to make it work musically. I saw him at a coffee shop and asked if he wanted to play drums on a show. He didn't seem that stoked at first, but it worked out.
How is your new album Concentration different than previous recordings?
It's a lot bigger. We're going for epic; it's all or nothing now. The other stuff I recorded solo in my room, but this one was in a studio and has been mixed and mastered. It's really weird because I've never actually had that. It also made me wait longer, and I'm naturally impatient. I'm the kind of guy that's like, 'that sounded good let's put it on the Internet!' Which is ok, but maybe I missed out on a better take? We basically went crazy this time. It's more polished and a lot darker than ever before, which is awesome.
Why darker?
I think I've always wanted to be darker, but now that I'm getting older I'm like "what's really stopping me?" Now we've captivated the people, we have them and can show them whatever we want. Our whole view is that we really like to weird people out. We always get thrown on these super dancy bills with electro-pop, and we're not like that. We just come out and fuck everyone up.
My last pressing question, would you rather have cats or dogs take over the world?
Recently I've become a cat lover, so I'd say cats. Only because I think that dogs are actually really stupid. You can tell a dog not to do something and it will do it. A cat is more concerned about laying around. If the world was really being taken over by cats what would be the worst thing, hella cats in the streets? If it were dogs, everything would be broken and there'd be shit everywhere. As long as there's one giant litter box we'd be ok. There'd just be a lot of slumber. You'd maybe trip over something snuggly instead of a dog biting your face off.