Good Eggs Launches Around the Bay: Party Time!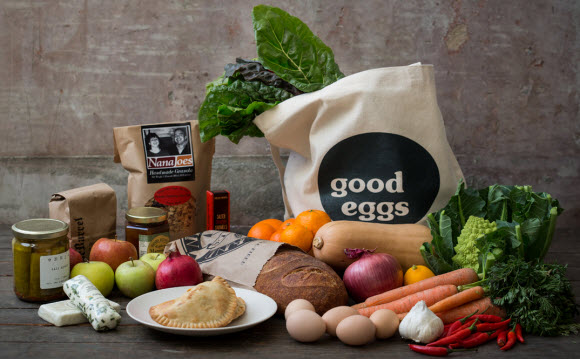 Good Eggs started in 2011 as a way to bring local produce and foods to hungry San Franciscans. Today, the service has expanded its delivery and pick-up map across the Bay Area. And to celebrate, they're hosting a launch party on Saturday, March 2.
Good Eggs has over 100 vendors selected based on strict criteria: sustainable agriculture, humane ranching standards, sourcing transparency and treatment of employees. Once a vendor has been set up with Good Eggs, they can offer online orders with delivery or pickup. This is a great way for rising talent to gauge their output and cater to customers who have a passion for local food but may not always be able to make it out to a farmers' market. Cathy Bishop, head of marketing for Good Eggs, says that consumers have been delighted with this easy way to order locally produced food. And for the vendors, Good Eggs is a way to sell directly to people, with less hassle. "We built our software and distribution systems to let them spend less time on paperwork and logistics, and more time doing what they do best. One of our bakers told us that 'we make administrative Monday oh so sweet,'" says Cathy.
The Bay Area has long been heralded as the place for sustainable, local cuisine, and Good Eggs fits in perfectly. By blending technology (online ordering for consumers, quick processing for vendors) with local foods, the company has filled a need for busy people from Mountain View to Berkeley to Marin who want interesting products that they can feel good about eating. As Cathy explains, "people want to know more about the goods in our lives, the folks who made them, and the values they were produced with. With food, this shift means that people are asking questions about what they're eating, seeking healthier, fresher food; food that's grown by someone in your region, with sustainability as a priority. We want to help fuel that shift."
Good Eggs allows consumers to read about all of their vendors, and purchase from a wide assortment of products from each. Each vendor has pick-up and/or delivery options, and many offer standing orders for those weekly or monthly deliveries.
The launch party will feature a live brass band and local food and drinks from several Good Eggs vendors and other local food makers, including Bread Srsly, Harley Farms, House Kombucha, Firebrand Artisan Breads, Wooden Spoons, Mama Tong, Sow Fresh Juice and Black Jet Baking Company. The $5 ticket comes with a drink and snack from one of the vendors and all ticket proceeds go to La Cocina. There will be plenty of opportunities to buy additional food and drinks from the local vendors as well.
Good Eggs Launch Party
Saturday, March 2, 4-7pm
1975 Bryant Street @ 18th Street
Image courtesy of Colin Price for Good Eggs