Vegas Uncorked, SF Dining with Bon Appetit's Andrew Knowlton and Adam Rapaport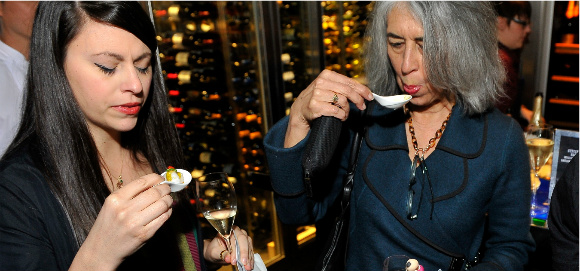 The Bay Area has SF Chefs and the Pebble Beach Food and Wine Festival; Las Vegas has Vegas Uncork'd. Both worlds collided this week at a preview of the Vegas food festival with Bon Appétit's Andrew Knowlton and Adam Rapaport, who also dished on San Francisco's dining scene.
Among the hundreds of food festivals across the country, perhaps none have the star quality of Vegas Uncork'd, being held May 9-12. Some of the most decorated chefs in the country will gather for four days of dinners, tastings, demonstrations – basically with all the glitz and glamour of Vegas. "I've been to many festivals and I think what makes Uncork'd unique is that it is in Las Vegas," Rapaport said. "Some people do come into town just for the event. But others might be visiting and sign up for a demo or tasting as part of their Vegas experience. Guests get to pick and choose what they want to do and come and go as they please."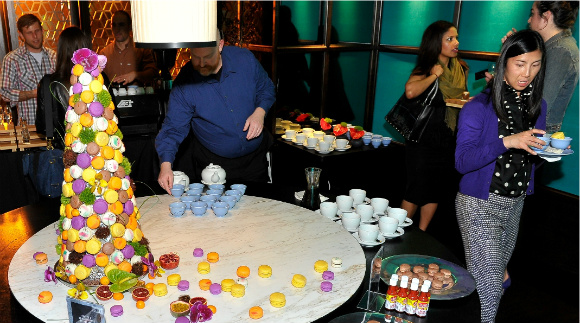 This week's preview event at Hakkasan in San Francisco included some small tastes and sips for what's to come, with bites and booze from local noted chefs Michael Mina, Charlie Palmer, along with Christina Wilson, the most recent winner of Hell's Kitchen, Mary Sue Milliken, Julian Serrano and Hakkasan's very own chef Ho Chee Boon. "Vegas Uncork'd gives guests a chance to go 1-on-1 with a lot of celebrity chefs, which makes for a really unique experience. Whether it's a Master Series Dinner with Bobby Flay or Gordon Ramsay, dinners with Joël Robuchon or Nobu Matsuhisa; it might not be for everyone, but for those who love that celebrity factor that is Las Vegas, they're in for a treat."
We couldn't let Knowlton and Rapoport leave without talking about the San Francisco culinary scene, which they have been perusing this week. Knowlton showed his love for the Bay Area by naming State Bird Provisions Best New Restaurant of 2012. "I love coming out to San Francisco. Whenever I come to town, the first place I always try to go to is Swan Oyster Depot for lunch. I order Dungeness crab if it's in season and a few Anchor Steams and am so happy. I love what Danny (Bowien) does at Mission Chinese Food," Knowlton said.  "I almost always try to stop at Boulette's Larder in the Ferry Building. And for a good drink, I usually go to Alembic." Rapoport, a graduate of UC Berkeley, said he has an affinity for the Mission District. "There are places like Roxy's and Mr. Pollo that you just can't find in New York. We went to La Taqueria the other day. It's great to see those same places where I went in college still standing." Rapoport said it's also fun to come out West and fully experience the culinary tug-of-war between New York and San Francisco, as diners in both towns tend to be very "discriminating" toward the other.
By the way, tickets are already on sale for Vegas Uncork'd. More information here.