Q&A: Chhom Nimol and Zac Holtzman of Dengue Fever
Dengue Fever is a band from L.A. but their sound encompasses a much more worldly attitude. Cambodian front-woman Chhom Nimol intertwines English with her native tongue, Khmer, bolstered by a musical force of solidarity.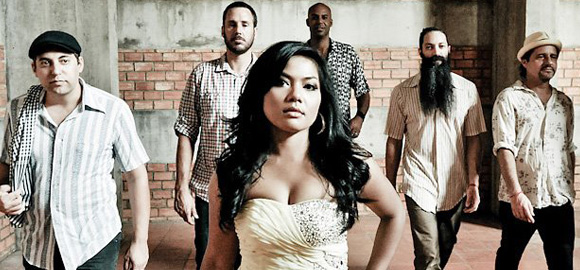 This sextet has developed from Khmer rock enthusiasts to modern Cambodian Indie rock pioneers. We caught up with Nimol and guitarist Zac Holtzman to talk about a slight dis from Snookie in True Blood, a campaign for the 55th annual Grammy awards and an unfortunate sickness that inspired the band's name.
How did you end up playing Cambodian rock music and did you foresee success?
Zac: It started when my brother went to Cambodia in the 1990s and collected tapes of old Cambodian rock 'n' roll. I just moved from SF to LA and one day he heard me listening to the same music. He couldn't believe it. I told him I got the tunes at Amoeba Records and he was like, "what we if started a band based on this beautiful music?" And so that's what we did. We had no idea that it would last and that we'd be together traveling the world.
You started off playing covers of 60s and 70s Cambodian rock, is there a large following for this kind of music? Do people recognize your covers?
Zac: Yeah, especially when we go to Cambodia. That's like their classic rock.
You've transitioned into writing your own songs, is there any pressure to honor the genres integrity?
Zac: There's no pressure. We've put out five albums. Our first one was mainly covers, and the next one was mainly original with a couple covers. None of us came from cover bands; it's not like we were in college playing U2 covers at frat parties. We always had more fun writing songs. Nimol was kind of limited in the beginning so we played covers, but we don't feel any pressure. We just go with what feels right.
You have a very worldly sound, not just specific to Cambodian Rock or indie Rock.
Zac: Yeah, we all listen to different kinds of music. There's African influence, some Middle Eastern, but we try not to have anything blatantly screaming that we're posing or ripping off a genre. Like, if there's a cool Asian scale we'll maybe incorporate that into a song and it will go into all sorts of directions, but we won't start going crazy with Chinese gongs.
Tell me about the process of translating your lyrics into Khmer. Do you feel like you ever lose your audience singing in another tongue?
Nimol: We still sing in it, but the next album we are trying to sing more English.
Zac: When we're building a song, we sort of give it what it wants. When it's a story about Nimol and her childhood it makes more sense to sing in the native language, or if it's a great rock 'n' roll tune it might make sense to sing in English.
I think one of the beauties of music is that it's fairly universal. People don't need to understand all the lyrics. They can just feel the vibe and the beat; you don't have to go to grad school to feel it. I like when people can interpret things on their own and sort of gains its plane in the art world.
Tell me how you came up with the name Dengue Fever?
Zac: When my brother was there his traveling companion got the disease. When they were rushing him to the hospital it was a bumpy road and people were getting sick, throwing up and such. My brother would lean through the window and ask how he was doing? The guy was all pasty and sweaty. Meanwhile, The driver had this tape he was playing with all these great songs on it. He asked the driver about the bands, and the disease his companion had. He told him it was Dengue Fever. My brother kind of put these two together.
Nimol, tell me about your move to the states and how you joined the band. Were you apprehensive at first?
Nimol: I moved in March 2000 from Cambodia to the USA. Some people in Minneapolis invited me to sing in the US and then I moved to LA to sing at a place called the Dragon House where they have live Cambodian bands. Right now, I'm very comfortable because we've been together for 10 years, it's like a family to me. But at first I wasn't 100 percent sure.
I had my sister and friends who spoke English guide me. I asked them about the band and what they thought. My friend took me to rehearsal and it worked. It was hard in the beginning because all the band members were American. But I was sure of it after a while, and all my friends in Cambodia thought I was a Hollywood star.
Zac: I thought she was meant to sing for us as soon as I saw her. I elbowed my brother and said, 'That's who we have to ask.' And there were like six girls singing, they'd take breaks and eat this crazy salted tilapia. It was pretty bizarre.
How was your first experience back to Cambodia?
Zac: At first there was a lot of pressure. Nimol was very nervous, but right after we played she got flooded with phone calls saying how great they thought she was, and how it was great for Cambodia.
Nimol: They couldn't believe that I taught American's how to speak Khmer. They were very happy when they heard us singing about Cambodian people. After we played a couple shows I became more comfortable.
You're playing a special campaign for the Grammy's?
Nimol: Yeah!
Zac: I didn't even know it was confirmed. I got an email asking if everyone was in.
[Publicist: They started running the TV ads yesterday.]
What other films or television performances stand out?
Zac: The song "1,000 years of a Tarantula" was in a season finale of Weeds. We were in True Blood. They named the episode after Nimol called "Escape from the Dragon House." Sookie was in a car and a vampire was playing our music. She was like, "what is this and what language are they singing?" The vampire said, "Cambodian" and she replied, "Can you turn it down?" It was pretty funny.
How do you feel about San Francisco and what's the first thing you're goning to do?
Nimol: I love it, the energy is great and the people are so nice.
Zack: I'm gonna get a burrito and go to Truly Mediterranean. That place is delicious.
Dengue Fever perform at the Independent on Thursday, January 31st. More info.