Bocanova Chef John Ledbetter Discusses Menu, Shares a Recipe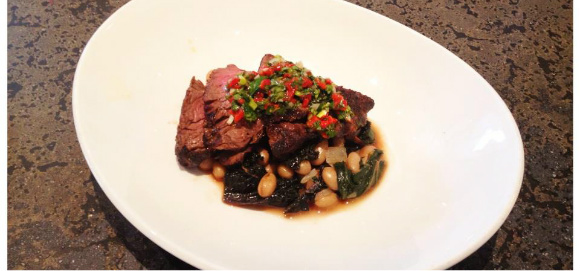 The expansion of Jack London Square has taken longer than anticipated. But the area is slowly becoming the restaurant hub planners envisioned. Leading that charge is Bocanova, with Chef John Ledbetter, who took over the kitchen in 2011.
Ledbetter has worked at restaurants across the country, with stops in New Orleans and New York, before returning to his native California. Following stints in San Francisco, he and his wife moved to the Jack London Square neighborhood in Oakland and soon thereafter, he joined the team at Bocanova as executive chef.
"This was a new challenge for me," he says. "I had never really worked in a restaurant that focused on Latin American cuisines, but after my time at Lark Creek Steak in San Francisco, I wanted that challenge. I feel like you never really plateau as a chef and I am always striving to improve and work at my craft."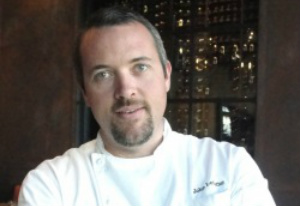 The large setting at Bocanova (the restaurant can seat over 150 people in just the main dining room) and large kitchen staff was a bit overwhelming for Ledbetter at first. But after getting his feet under him, he has taken to adjusting the menu and working on new dishes.
"I'd say about 80 percent of the menu is mine now," Ledbetter says. "Because our menu is so large, it doesn't really make sense to change it frequently. So we'll change once a month, with six to 12 new dishes each time. It gives our staff in the kitchen a chance to really perfect a dish and the front of the house to get a better understanding of the menu and the new items in place." As the menu changes, Ledbetter will usually spend those next few days in the kitchen, helping his large staff understand the nuances of each new dish.
With Bocanova open seven days a week and serving lunch/brunch and dinner each day, Ledbetter said that sometimes, it can be hard to get a sense of what's working and what's not working.
"I observe what the team is doing and, honestly, there are just certain menu items that either don't play well or the dish just doesn't turn out how I want it to," he says. "Cooking is a lot about technique, no matter what type of cuisine you're working with. The ingredients make that cuisine, but the technique in a lot of ways stays the same."
Ledbetter said that's he's excited about the continued expansion at Jack London Square, comparing the city to Brooklyn's great restaurants and neighborhoods. "It's an exciting time and I really think there are a lot of opportunities in this area."
Here's a recipe for one of Bocanova's staple dishes: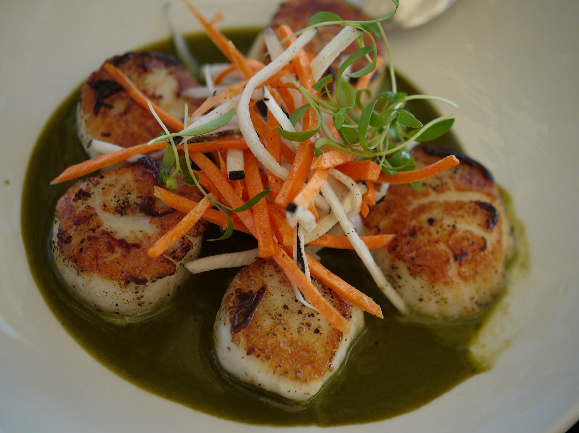 Pan-seared Scallops with Brazilian Curry Sauce
Recipe: Serves 4
Brazilian Curry Sauce (makes 1 quart of sauce)
Ingredients:
5 cloves of garlic
5 jalapenos
1 T sliced ginger
1 T butter
¾ cup maple syrup
¼ cup soy sauce
1 quart of heavy cream
1 bunch mint
1 bunch basil
Method:
In a 4-quart sauce pot, melt butter and sweat garlic, ginger and jalapenos until soft. Add maple syrup, soy sauce and cream. Bring to a boil and then turn down to a simmer. Let simmer until reduced by 30%. Place reduced sauce in a blender and add the basil and mint. Puree until smooth. Pass blended sauce through a sieve. Place on an ice bath (a container full of ice) immediately after straining in order to keep the green color of the herbs. Season with salt and pepper to taste.
*You will have plenty of extra sauce, which can be frozen for the next time you make this recipe. The curry sauce can also be used as a delicious complement to many other dishes.
To finish:
Ingredients:
1.5 lbs of day boat sea scallops
8 oz. Brazilian curry
1 sm. Carrot (julienned)
4 red radishes (sliced thin)
1 lime
2 t. olive oil
Micro-greens (optional)
Salt and pepper to taste
Method:
Place a large sauté pan on high heat and add just enough vegetable oil to coat the bottom of the pan. When the pan starts to lightly smoke, add the scallops. Turn them over carefully when they are golden brown and turn off the heat. Let them rest for 1 more minute and then remove from pan to rest. Place 2 oz. of curry sauce on each plate and then place scallops on top. Toss the sliced radish and julienned carrots with the lime juice and olive oil and garnish each scallop. Place a pinch of micro-greens on top of each scallop to finish.
Bocanova is located at 55 Webster Street at Jack London Square in Oakland.
Photo Credit: Bocanova