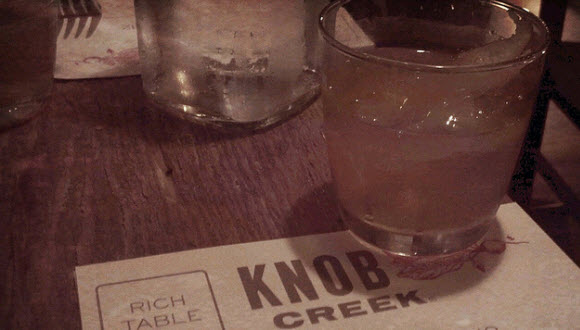 A lesson in bourbon is a lesson in American history, as I learned last night at the Knob Creek Standard Dinner held at Rich Table. The dinner was the final in an eight-night series held across four U.S. cities, pairing some of the hottest new restaurants with all-American Knob Creek bourbon.
Rich Table was the perfect setting for such a dinner; the rustic atmosphere and hearty menu complimented the richness of the bourbon cocktails. The highlight of the evening was seeing how Rich Table mixologists created brand new bourbon cocktails to match the existing restaurant menu, and how bourbon was infused into these dishes for different flavors than appear regularly.
For starters, staff passed around roasted beets with burrata and buckwheat; salted radishes with brown butter; roasted cauliflower fritters with red onion marmalade; sardine chips with horseradish; brandade of swordfish and trout. This was paired with the Knob Creek sparkling cocktail, a combination of bourbon, bitters, sugar and cava—my second-favorite drink of the night. The appetizers, which all appear on the usual Rich Table menu, set the tone for the evening: twists on seemingly simple dishes that come out with extraordinary and memorable flavor. Even those sardine chips, which I might have shied away from otherwise, were fantastic. The sparkling cocktail was light thanks to the sugar and cava, but had the definite kick of bourbon.
Next, guests were seated for dinner. A Knob Creek distillery specialist shared some of the background on the brown liquor: true Bourbon is always made in the U.S., though contrary to popular belief, it doesn't have to come from Kentucky (although 90% does). We learned that the main ingredient in bourbon is corn, adding to the American-ness of the drink.
Dinner began with a salad of chicories and apple with chicken skin and bourbon date vinaigrette. The usual menu item does not have bourbon in the dressing, but it wasn't noticeable either. To pair, we had a Broken Maiden cocktail of bourbon, vermouth, gentian and seltzer. This drink was adorned with a large orange peel, which helped this bourbon-novice enjoy it.
Next came two entrée dishes: pasta and steak. While the majority of the group enjoyed tagliatelle with pork Bolognese, I had a wonderful dish of garganelli with matsutake [mushrooms], sundried tomatoes and arugula. It truly tasted like spring on a plate, though the accompanying Ravenna, KY cocktail of rye, vermouth, fernet and maraschino went relatively untouched; the true bourbon connoisseurs at my table loved it, but it was too strong for me in pairing with the light pasta dish. Then we were served a ten-to-twelve ounce bourbon glazed New York strip steak. The perfectly grilled medium-rare cut of meat came with my favorite cocktail of the night, a Kentucky Tea made with single barrel bourbon, peach, Pimm's and ginger. This Kentucky Tea was a welcome variation on more the more traditional recipe; I highly recommend asking for it at Rich Table.
To finish off a boozy Wednesday—waking up at 6 a.m. was not easy—was a round of dessert with bourbon caramel panna cotta and egg nog. Admittedly, these were my first spiked egg nog and first panna cotta tastings, both of which were unexpected tastes and textures.
Perhaps my biggest take-away from the dinner was a final quote shared by the distillery expert: "you can add as much water or soda to it [bourbon] as would make you enjoy it." To all the purists out there, I have permission to dilute my bourbon for as long as it takes.
Photo credit: Emilia Varshavsky