Roli Roti's 10th Anniversary and New Menu Item on Sunday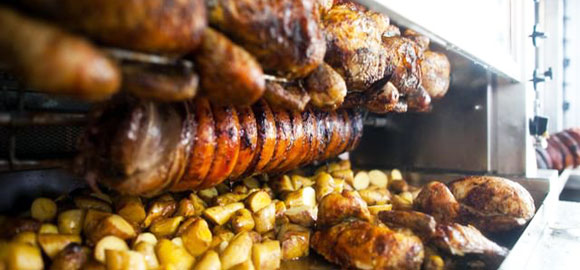 Popular roasted chicken food truck Roli Roti celebrates its 10th Anniversary on Sunday, September 30, 2012, with a big outdoor party from noon to 3 pm. The festivities are open to the public. And all proceeds will benefit Alice Waters' Edible Schoolyard Project.
The truck will be parked in front of Chez Panisse Restaurant, at 1517 Shattuck Avenue, in Berkeley. And both Roli Roti chef owner Thomas Odermatt, and legendary chef Alice Waters, will be on hand to greet and serve customers.
Enjoy great live music, and a special anniversary menu that promises to tantalize your palate, with delectable porchetta sandwiches, rotisserie chicken, rosemary roasted fingerling potatoes, salads, wine, and various snacks for $5 or less. This event also features the debut of a new Roli Roti menu item: Arancine – golden brown fried Italian style roasted rice balls, filled with cheese and marinara. Get your first taste at the party.
Happy birthday Roli Roti!
Photo Credit: Roli Roti Facebook.