Baristas in the hood: Oasis Cafe
Today marks the first installment in a new series reporting on the city's baristas, the coffee shops in which they work, and the neighborhoods where they reside. In 49 small square miles, San Francisco is comprised of many different neighborhoods, each with their own unique flavor.
In some cases, even crossing the street feels like stepping into another unique area of San Francisco, so who better to guide us through these neighborhoods than the local barista, who knows the regulars, has the inside scoop on neighborhood happenings and gossip and can dish on the inner-workings of their hoods.
Oasis Cafe is a relatively new spot, located in a section of the city dubbed DivCo by some publications, NOPA by others, but for all intents and purposes we will refer to this neighborhood by its most used name—the Western Addition.
Oasis lives up to its name: quiet and spacious, enchanting coffee scents filling the air and a courteous and compassionate staff that seems happy to see its customers every time they walk in the door. The drip coffee comes in around 20 varieties and is ground fresh to order.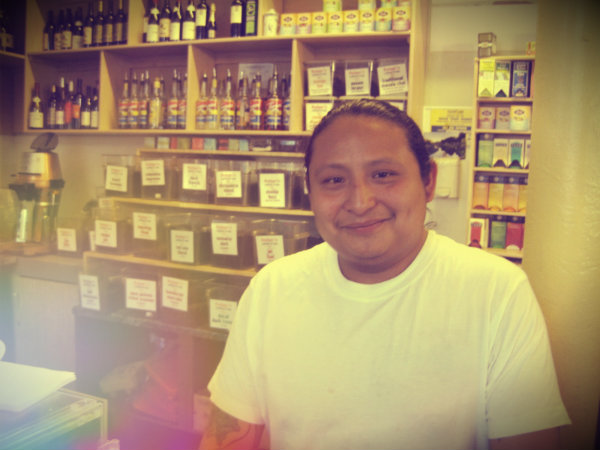 What's your name?

Santiago.

What are the peak hours?

On the weekends, it's most busy between 10am and 2pm. On the weekdays, we get a huge rush between 7 am and 11 am.

Who is your craziest/favorite customer?

This whole neighborhood is very nice; everyone is friendly and neighborly. We have a lot of customers with a good sense of humor.

What is the most popular snack ordered here?

Our breakfast wraps, featuring our special homemade salsa, are very popular.

What is the most popular beverage ordered here?

Iced coffee is big, but everyone talks about our ground-to-order drip coffee.

How would you describe the neighborhood?

It's a really wonderful neighborhood. I've been around here for six years and I love it. The vibe is easy-going and respectful, like a real neighborhood.

What is your favorite part of working at Oasis Cafe?

The owners are really cool people, very helpful and friendly.
Oasis Cafe is located at 901 Divisadero Street (between McAllister Street & Golden Gate Avenue), San Francisco, CA 94115.