Kirimachi Ramen, Fridays at OTG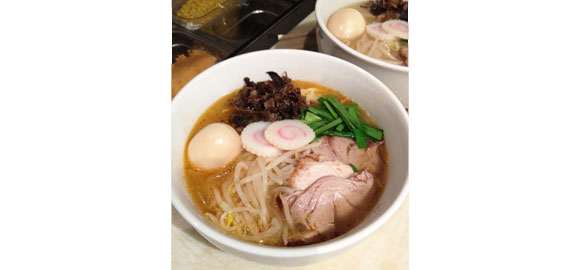 The only ramen shop in North Beach, Kirimachi Ramen, is now a fixture at Off the Grid Fort Mason Center on Friday nights, 5 to 10 pm. A nice hot bowl of ramen can really hit the spot on a foggy August night.
This year, Kirimachi (which means, kiri = fog, machi = city) owners Leo and Febry Gondoputro, decided to take a leap into the food truck territory with a weekly tent at OTG, in order to expand their customer base. Otherwise, find them Mondays thru Thursdays inside a dining space at 450 Broadway Street, which they share with fellow pop up vendor Easy Creole, since their debut in December 2011.
Most local ramen fans now understand that there are many different styles and versions of ramen. Kirimachi's Tonkotsu broth is not as heavy or oily as the traditional versions from other ramen shops, because this is a homestyle broth. The type a Japanese housewife would make. Ramen purists might think it's too light, while people who dislike heavy and oily broths would be pleased.
Only a simplified version of their Tonkotsu ramen is available on Fridays. Each noodle bowl contains pork meat, fish cake, chives, corn, bamboo shoots, and cabbage, but no egg for $8. Customers will have to visit the North Beach location to enjoy a fully loaded ($10) version of their Tonkotsu bowl with a soft boiled egg, or additional menu options, like the Sapporo style (white miso) ramen, made with Marin Sun Farms chicken broth, or the Vegetarian miso broth ramen.
Photo Credit: Kirimachi Ramen.