Men Oh's Tokushima Ramen Comes to SF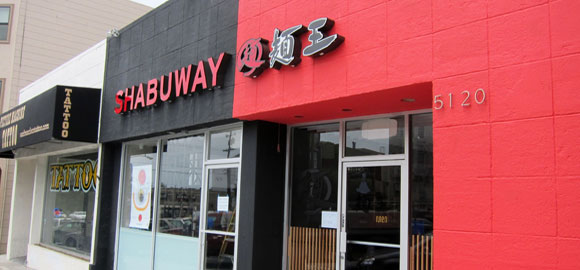 This week Japanese ramen chain Men Oh opened their first Tokushima style ramen shop in the city, at 5120 Geary Blvd. Tokushima style ramen is a blend of rich Tonkotsu (pork bone stock) and Shoyu (soy sauce) broths, a specialty from Tokushima Prefecture, located on Shikoku island, Japan.
San Mateo's Shabuway chain restaurant has the exclusive contract to operate Men Oh's franchises in the U.S., so they built this new ramen shop right next to their upcoming hot pot outpost.
The ramen bowls are priced reasonably at $8.50 to $8.95, which includes pork chasu meat, an egg, and vegetables toppings. No need to add anything, but extra toppings are available for just $0.50 to $1.50 each. Extra noodles (known as "kae-da-ma") can be had for $1.50. The short menu is exceptionally affordable. There's a handful of appetizers like gyoza potstickers, chicken karaage, and agedashi tofu, plus a pair of mini donburi side dishes, all for under $5 each.
This week's preview dinners serves as a soft opening, so the new staff can become more organized. Men Oh's official grand opening is on Friday, July 27, 2012. The regular hours will be: on weekdays lunch service starts from 11 am to 2 pm, and dinner service from 5:30 to 10 pm. On weekends the shop stays open all day, Saturdays from noon to 10 pm, and Sundays until 9pm.
Photo Credit: Luis Chong