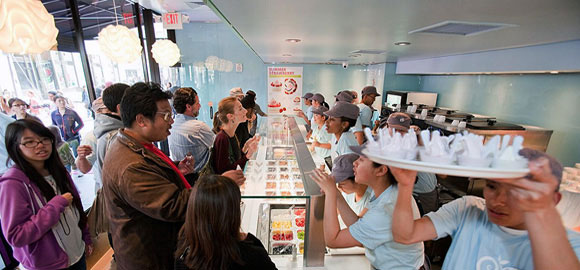 Last Thursday, the Pinkberry frozen yogurt chain opened a brand new shop at the street level of Macy's Union Square, on the O'Farrell street side.
Hundreds of customers lined up on Thursday and Friday for the free froyo samples, a special opening event from 5 to 10 pm. The company was celebrating opening 200 stores, and its first San Francisco location. Although SFO airport passengers already enjoy this tart and creamy froyo from Pinkberry's Terminal 2 location, which opened last year.
The number of choices and flavor combinations can be overwhelming. Pick a cup size: mini (3oz.), small (5 oz.), medium (8 oz.), or large (13 oz.). Choose a froyo flavor: original, chocolate, watermelon, peanut butter, strawberry, and mango. The last 4 items are seasonal flavors which vary each year. And then go wild with unlimited toppings – fresh fruits, dried fruits, nuts, candies, cereals, cheesecake bites, cookies, honey, chocolate sauce, etc. And new "Luxe" toppings which include: Lemon Cookie Crunch, Milk Chocolate Crunch, and Peanut Butter Crunch. Prices range from $2.95 to $7.95, depending on cup size and with or without toppings.
The shop is open daily from 10 am to 10 pm, Fridays and Saturdays until 11 pm. The long hours are welcome news for froyo cult fans and customers with a sweet tooth.
And for those fond of the catchy Pinkberry jingle, click on the video below. "Sorry ice cream, I'm on my way to… P-I-N-K-B-E-R-R-Y, pinkberry…"
http://www.youtube.com/watch?v=lZzsw3VYpWQ
Photo credit: Pinkberry Facebook.