Birds & Batteries Premiere Video for "Let The Door Swing"
Local electro-heros Birds & Batteries give us a taste of their upcoming release, Stray Light, by premiering a video for the first single, "Let The Door Swing".
What do a cassette tape, a muscle man, some saliva and a psychedelic tear-away landscape have in common? I'm not sure, but they all play key roles in the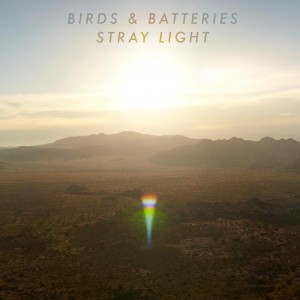 new Birds & Batteries video for "Let The Door Swing" directed by Jimmy Marble and funded, through Kickstarter, by fans of the band. A warning: this song will definitely get stuck in your head, and not in the annoying "Call Me Maybe" way where it just funnels through your inner psyche like a shoe stuck on a wash cycle. This is a a song you will cherish as it spins around your brain. You will want to know the words so you can attempt (and then most likely fail) to hit the exact cadence of singer/guitarist/keyboardist/composer Mike Sempert as he layers his vocals in this off-rhythm pattern of absolute radness. It's hard to nail down a genre for a song like this but certainly the psychedelic tear-away landscape described above and featured in the video is a good starting place. Sempert, along with Jill Heinke on bass and keys and Christopher Walsh on guitar, is just as masterful at setting a soundscape as he is at tearing it away. The music of Birds & Batteries is a lesson in life, loss and reevaluation. It is about letting go and giving in – to the layers, to the deep groove, to the patterns, to the dizzying fluidity. And then it's over far too soon. So you'll play it again…and again and again. And your summer will be the best one yet because you "Let The Door Swing".
Stray Light (Eightmaps Records) is out August 7. Birds & Batteries play their record release at The Rickshaw on August 3 with Radiation City and Trails & Ways. Tickets are $10-12 and the show is all ages.