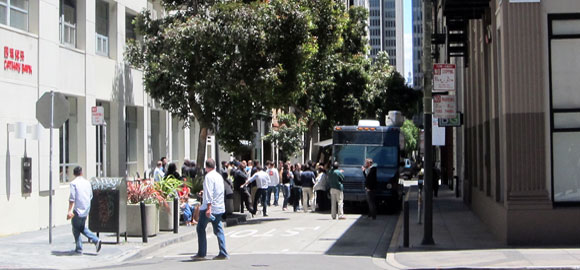 Wexler's restaurant launched a BBQ food truck last week. Wexler's Back is the fifth mobile BBQ in SF. I'll outline all local 'cue vendors on wheels in a future post.
Wexler's chef Charlie Kleinman is another professional chef that has caught the food truck bug. And judging by the huge crowd that gathered for the official debut last Friday, this lunch venture is a total success. The truck attracted several times more customers than the restaurant in comparison. So far I've only tried the pork ribs platter with fries and greens, everything was good. Don't forget to stock on the BBQ sauces: dark, sweet and tangy Texas style sauce (bottle labeled "Slammin Joes"), North Carolina red vinegar style sauce (bottle labeled "Oh Carolina"), and South Carolina style hot mustard (bottle with yellow sauce).
The menu features 4 meats: BBQ chicken, beef brisket, pulled pork and St. Louis pork ribs – served as a sandwich for $6-$8, just the meat for $6-$18, or as a platter with your choice of 2 sides for $9-$10. Side dishes ($4 each) include: cole slaw, potato salad, BBQ baked beans, hush puppies, braised greens, and seasoned fries. And drinks for $2: Mexican Coke bottles, Dr. Pepper, Diet Coke, lemonade, and iced tea.
Hours: Monday thru Friday 11 am to 2 pm. Cash only. The truck is available for private catering events during the evenings and weekends.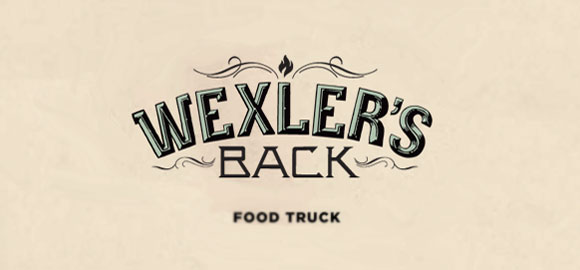 Photo Credit: Luis Chong; Graphic Credit: Wexler's website.