Diners Vote for Favorite International Dishes in SF, Donate to Charity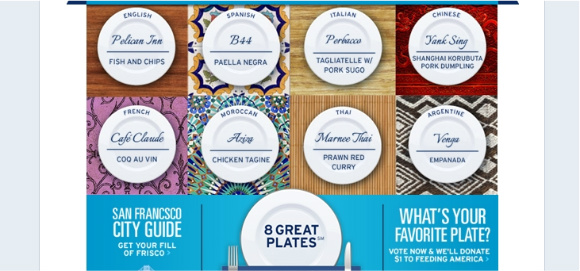 A charitable partnership is allowing San Francisco diners to vote for their favorite dishes from eight restaurants in the City, each serving eight different international cuisines.
Chase Sapphire and Tasting Table have partnered together to select restaurants in 10 U.S. cities, including San Francisco. Each of the restaurants are meant to showcase some of the food featured on Bravo's new culinary competition series "Around the World in 80 Plates," which follows 12 chefs in a race across 10 countries over 40 days.
"The competition allows diners across the country to show their passion for diverse culinary experiences while raising needed funds to fight hunger," said Sean O'Reilly, general manager with Chase Sapphire. "By simply casting an online vote for their favorite international dish at participating restaurants, consumers can help raise $100,000 for Feeding America."
For every vote cast online through July 31, Chase will donate $1 to Feeding America and up to $100,000 nationwide. Locally, if enough votes are collected, the San Francisco & Marin Food Banks could receive up to $10,000.
Although the restaurants do not receive an award, Chase officials said the list of restaurants and dishes will give diners an opportunity to experience the food that is being presented on the TV show. The top-voted plate in each city will be announced in early August.
Here is the list in San Francisco, in alphabetical order:
Morroccan – Chicken Tangine at Aziza
Spanish – Paella Negra at B44
French – Coq au Vin at Cafe Claude
Thai – Prawn Red Curry at Marnee Thai
English – Fish and Chips at Pelican Inn
Italian – Tagliatelle with Pork Sugo at Perbacco
Argentinian – Empanadas at Venga
Cantonese – Shanghai Kurobuta Pork Dumplings at Yank Sing
Those interested can vote online through the "8 Great Plates" Dining App on the Chase Sapphire Facebook page.
Photo Credit: Chase Sapphire