Now Open: Live Sushi in Outer Mission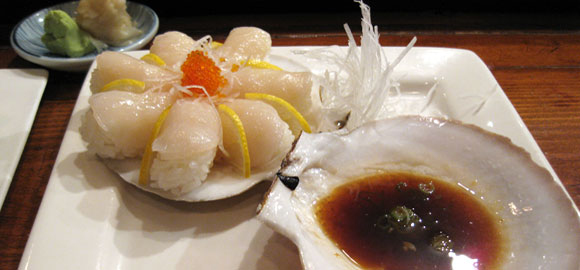 Last week, the third branch of local Japanese restaurant chain Live Sushi, opened in Outer Mission. Live Sushi Mission replaces DaKine's Hawaiian BBQ, who called it quits after 5 years competing with the more popular tiny Hawaiian Drive Inn #28, across the street. The change was predictable, after all it makes more sense to have different cuisines for neighboring spots.
This Japanese restaurant is a welcomed addition to the underserved Outer Mission area. Although some neighbors might worry that this will affect business at Sushi Raw, a few blocks away, which has been the sole sushi joint in this neighborhood for more than 4 years. In my opinion, there's plenty of business for 2 Japanese restaurants, specially since they have different qualities. Area residents appreciate Sushi Raw's dependable food quality and their value priced bento. In comparison, the newcomer's menu is a bit more upscale and features a few exotic items. Live Sushi does a stellar job with unique and artfully presented dishes. Tip: Look for menu items listed under the "Chef's Specials" and "Something Unique" headings, you won't be disappointed.
For now, chef-owner Jackson Yu runs the sushi bar, making sure that the food quality remains top notch. My favorite item is the Live Scallop ($18.95). It's one of the signature dishes that made them famous at the original location in Potrero Hill, Live Sushi Bar. The sushi chef opens a fresh giant scallop and prepares 2 dishes from it. The fresh raw scallop meat is made into several small nigiri sushi, and served on the shell (picture above) with ponzu sauce. While the surrounding scallop parts are sliced, mixed with onions, and prepared tempura style. That second dish is served a few minutes later. Unique and delicious! So far, I haven't seen other Bay Area restaurants with something similar.
The new sushi restaurant is open daily, the lunch hours are 11 am to 3 pm and dinner from 5 to 10:30 pm.
Live Sushi Mission
4808 Mission @ Persia St.
San Francisco, CA 94112
1.415.585.5055
Photo Credit: Luis Chong