Rusko Lights Up the Regency Ballroom
On tour to support his sophomore album Songs, Tuesday night Rusko led a nearly packed Regency Ballroom through the highs and lows of a purely dubstep set.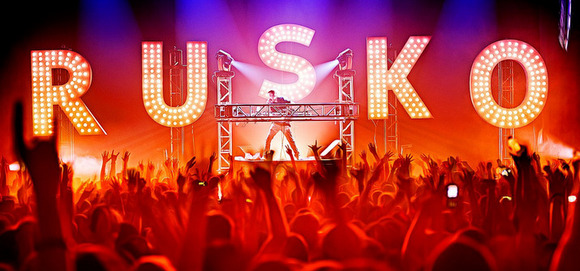 Hitting the stage full of energy with a bottle of Grey Goose by his side, Rusko shook his strawberry blonde mohawk from start to finish. Lit up letters spelling his name served as a backdrop with heavy bass sending the young crowd into a throbbing dancing mass, especially during hits like  "Hold On," "Everyday" and "Woo Boost." His newest single "Somebody to Love" was an easy crowd favorite.
Rusko "Somebody to Love"
Momentum slowed a few times during the set while leading into less known instrumental tracks but vocals picked the crowd back up along with monstrous buildups and high energy drops. He put on quite a show on his metal platform behind CD-Js but could have used a live vocalist to bring more of a performance element.
Rusko played his hits, the kids loved the wobbles and at the end of the night we went home happy, seeing a dubstep show in its most original form.