Gluttony at Stockton's Asparagus Festival Starts this Weekend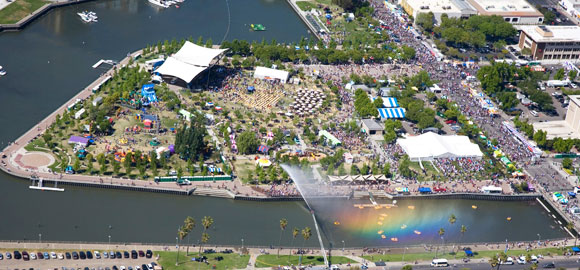 Over 150,000 people are expected to attend the 27th Annual Stockton's Asparagus Festival this weekend. This is the largest charitable event in California, according to Executive Director Kate Post. To date, this award winning event has raised over $5.5 million to benefit 129 local non profit organizations.
The adult admission ticket for this shindig is $12, active military personnel, seniors and teens pay $7, and free admission for children 12 & under. Parking fee is $10. But those without a car can also attend this festival. Because for the first time this year, the festival organizers have arranged for luxury motorcoach transportation from outlying areas like San Francisco – pickup spot at 9:30 am from Hyatt Regency on the Embarcadero, arrives festival at 11 am, returns at 7 pm. The round trip fare is $35, which will save you on gas money, parking expense, and the hassle of dealing with heavy traffic or the long drive to Stockton. Best of all, festival admission is only $10 when you purchase the $45 packaged deal online. Or take public transportation, the Amtrak service from Emeryville station to the Stockton station will cost you $9 to $16 each way, depending on the date and time of departure. Then just walk west 10 blocks straight towards the Downtown Stockton Waterfront, to the festival location.
Join the hordes waiting in line at Asparagus Alley, to feast on fried asparagus, asparagus pasta, asparagus burritos, asparagus ice cream, and even asparagus margaritas. Last year, 36,000 pounds of delicious asparagus were consumed by attendees. If that weren't enough, food vendors line the streets with corn on the cob, sausages, turkey legs, chicken kabobs, chicken wings, tri-tip sandwiches, BBQ meats, BBQ oysters, burgers, tacos, and other numerous festival food stands, with every type of fried, greasy and sugary snacks you can imagine.
The festival features live entertainment from circus performers, ethnic dancers and music bands, dog acrobatics at the Skyy Dog Arena, arts and crafts, regional wineries, cooking demos and activities for all ages. Most notable on Saturday, witness world competitive eating champion Joey Chestnut, attempt to win his 7th consecutive title in the deep fried asparagus eating contest. He faces 14 challengers, all hoping to beat his personal best of gobbling 9.325 pounds of battered and fried asparagus in 10 minutes. Pride is on the line, as this is the event that launched his eating career in 2005. And then on Sunday, from 11 am to 5 pm watch the finalists of the amateur and professional chefs categories compete for the title of "Chef of the Fest," an Iron Chef style event. The asparagus festival promises fun for the whole family!
Photo Credit: Stockton's Asparagus Festival Facebook