Chicago-based producer, DJ, and record collector Tim Zawada is known for incorporating everything from new wave to soul in his sets. He has also garnered fame from his prolific Tugboat Edits, a series of mixes which feature obscure tracks from his vast record collection.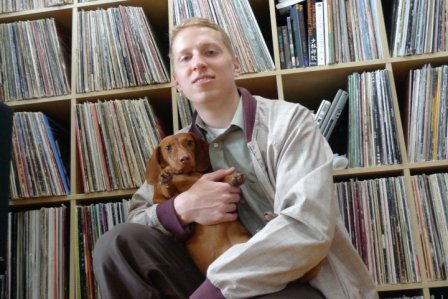 He has shared stages with notable artists such as Craig Smith and Chicago legend Farley Jackmaster Funk. Catch him headlining the Deco Lounge for disco funk party Go Bang! this Saturday, April 28th.
Can you give us a little history on how you started producing and DJing?
I started producing different kinds of dance and hip-hop music in high school. I was in some bands and had accumulated a bunch of equipment. I played drums and keyboards and started recording instrumental tracks on my own or occasionally with some friends. I started sampling and buying records shortly after but it wasn't until I moved away to college that I started DJing.
How did you start the Tugboat Edits?
A couple of years ago my friend was starting a new label and needed a name. We were chatting and I threw out a bunch of garbage suggestions – the last being Tugboat Edits. He liked that but didn't move on it quick enough so I just started using it for my own edits.
How did you come up with the name Tugboat?
Tugboat is the name of my dachshund – also the logo of Tugboat Edits.
What can we expect from your next Tugboat mix?
I can never tell. I like to conceptualize and record mixes but the musical selection can be all over the place – Mostly disco and house but under those umbrellas anything from '80s boogie and electro, '80s/'90s/modern house, afrobeat, new wave, rock, pretty much whatever. The nice thing about digital DJing edits and remixes is being able to prepare a lot of songs for the dance floor that maybe you wouldn't normally play – though at Go bang! I'll only be playing records.
When did record-collecting become a hobby and lifestyle for you?
I started accumulating records strictly to sample while still in high school. I wasn't too picky about what I bought – as long as it was cheap. While in college – my friend asked me to DJ a party with him because we both had a turntable and a few crates of records. It was a lot of fun but our records weren't exactly a hit with the average college student – that's when we started buying records with the intention of playing them for people to dance too – mostly classic rock, classic hip-hop and loads of disco.
How big is your record collection?
I really couldn't say – maybe 3000 12″ and probably another 3000 45s. I like to buy in bulk and get rid of stuff though so there's always plenty of junk taking up space.
Since you are also known for playing rare edits, where is the weirdest place you've found an obscure record?
I spent a few days doing some repair work for a lady in Gulfport Mississippi after Hurricane Katrina that had a bunch of funk 45s stashed in her cupboards. I asked if I could look through them and she told me to, "take what I wanted." I found a bunch of new wave records in a barn off a highway in rural Indiana too. I found a bunch of crates of house records ranging from 1992-99 in the basement of my first Chicago apartment that had managed to survive a few floods.
How was your first experience playing Go Bang! last year?
Playing Go Bang! was awesome last year. I met a bunch of great people and made some new friends. DJing/living in Chicago kind of spoils you in you are into dance music – house and disco. You can pretty much go anywhere and hear great music. I feel a similar connection in San Francisco that I haven't picked up on in many other places.
What do you look forward to doing in SF this time?
Everything!