Top 10 Acts of Coachella 2012 Weekend One
With the bad weather of the first round over, it's time to focus on the highlights and gear up for another wild weekend in the desert. After catching acts of all styles and genres, these are the ones not to miss next time around.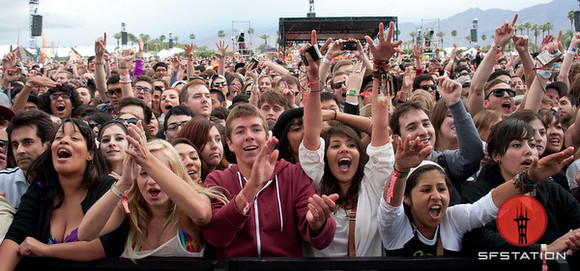 Wallpaper.
The first act of the first day can be discouraging to some but the Bay Area's own Ricky Reed packed the Mojave tent for one of his notoriously entertaining party-starting performances.
Swedish House Mafia
After a miserable day of cold rain, the three DJs turned up the heat at the day's final main stage performance with a pyrotechnics-heavy assortment of your favorite club hits.
Childish Gambino
The talk of the campsites Saturday night, the intelligent and talented rapper amazed plenty who had never heard of him and reassured fans that he's on his way to the top.
Azalea Banks
One of the most anticipated acts, she delivered the future of female hip hop with a seamless flow, beautiful singing voice and charisma to win the crowd.
Noel Gallagher's High Flying Birds
Oasis's front man ditched his troublesome brother Liam and brought on a real band, continuing to deliver that memorable sound with legit artists and ending the set with the favorite "Don't Look Back in Anger."
Flying Lotus
Heavy bass was everywhere the entire weekend but the biggest surprise of dubstep done right was Flying Lotus's energetic set just after dark in the Gobi tent.
Miike Snow
Gearing everyone up for Radiohead, the three crazy guys of Miike Snow performed their electro indiepop for a crowd of fans all singing along, only to be more wowed when they brought out guest Lykke Li.
David Guetta
No one expected Usher to show up but after an already high energy set from the DJ, he sang along to "Without You" and hyped the crowd after.
Santigold
A fresh reminder to the crowd of how many Santigold songs are loved coupled with extreme anticipation for her new album and refreshingly natural stage presence.
Dr. Dre & Snoop Dogg
The most talked about performance of the weekend, Dr. Dre and Snoop Dogg's heavily scripted and guest laden musical of sorts featured a hologram of Tupac but also all the favorites of new and old from their albums and others.