Oakland's very own Beats Antique has forged a name for themselves as one of the most unique and diverse live acts in electronic music with a blend of traditional world sounds, electronic elements, and live dancing. The group will bring a special production to its hometown Fox Theater show on March 30, which will be filmed for a live DVD.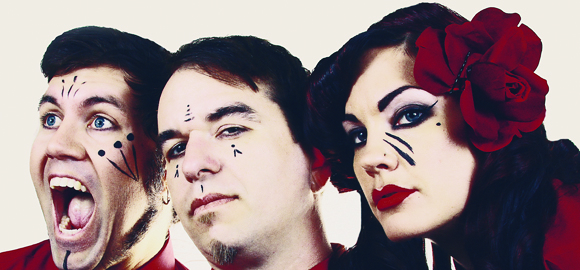 Beats Antique was formed in Oakland five years ago by multi-instrumentalists David Satori, Tommy "Sidecar" Cappel, and world renowned belly dancer Zoe Jakes. The group has released four albums, most recently 2011's Elektrafone,while traveling the world with an unrelenting tour schedule. 2012 is proving to be no different with a booked North American spring tour and several summer festival appearances.
SF Station sat down to talk with the group on the verge of their special hometown show at the Fox next Friday.
Being a band from the Bay Area, Oakland specifically, how can you describe the feeling of headlining the Fox for this hometown show?
Tommy: It's so awesome! I've lived in Oakland for 13 years and I was really excited when the Fox reopened, it's an amazing venue and so I'm just ecstatic.
David: Yeah, out of all of our shows, we've been looking forward to this show for like a year, we actually got booked for it about a half year ago so the anticipation has been building and building. We're putting on a very special show that we don't tour with. We're going to have about seven guest live musicians and seven guest dancers, so it's actually going to be a huge live production. And we're going to be recording a live DVD and a live album at the show.
When you started five years ago, did you ever imagine someday headlining the Fox? Is it in some ways a benchmark for Bay Area bands?
Zoe Jakes: Honestly we didn't think anything. We never thought about playing big shows; it was never like that, there were never any expectations at all.
Tommy: We actually didn't even plan on performing. The only performance part of it at that point was Zoe was going to be using it in some of her dance performances for a different group. Not until our second album did we actually get out and start DJing, and then we had that first tour with Bassnectar and we added percussion.
Touring relentlessly seems to be a common trend amongst artists in the electronic/ jam scene. How many shows are you guys playing every year now?
Tommy: (laughs) That's a good question. I would say it's close to 200 or 150, I think that's average for a hard touring band. We need to do that; I'm going to email our booking agent today and ask how many shows we did last year.
How has life on the road transformed you guys as a group musically and personally?
Tommy: It's definitely a labor of love. (laughs) It's amazing you get this feeling of doing something and that's a big part of it. You have this feeling of accomplishment every night and you feel like "Cool, now I got my little home, I got my little crew, we're running around and having fun." We've all been doing this for so long that we all know how to do it, we really try to draw on that experience and make it super fun and make all the shows really fun and successful.
You guys have played all over the place, is there anywhere you still have your eyes set on you haven't played?
Tommy: We're getting ready to go to Europe this year for our first time and we hope to go more international. We went to Australia last year and we've been working Canada for a while; we do really love Canada, too. We just played Costa Rica at the beginning of the month, we headlined a festival called Envision Festival.
Electronic music has always been big on the West Coast, are you surprised by the larger crowds that show up in less traditional markets in the Midwest and the South?
Tommy: Yeah, both David and me are from the East Coast so we sort of grew up seeing the live music scene becoming very prominent. I think as of late in the last two years, it's people like Bassnectar and the Glitch Mob that have been around for a little longer that have been exposing the West Coast sound to the East Coast and to the South. I think it's really cool , where I was growing up (in Fairfax, VA) we'd go to West Virginia and we would go into the mountains and the woods around nothing that was modern and now in West Virginia there's this huge festival called All Good. There's like 17,000 people there rocking out to electronic music and live music. To me that was a really big surprise, and a welcome one at that.
Last year you released your fourth album Elektrafone which found you heading in a more electronic/bass direction. Have you been working on new material and if so what direction is it heading in?
Tommy: It sort of seems to be going in a sort of electronic orchestral live thing, I don't know.
David: I feel like we have so many different avenues to explore. We have our more electronic-heavy music, then we have a real traditional acoustic world sound, and it seems like we're actually just doing both of them right now at the same time.
Beats Antique performs March 30th at the Fox Theater with opening support from Filastine, and The Loyd Family Players. Tickets are $25. More info.