Interview with 5A5 Steak Lounge Owner Steve Chen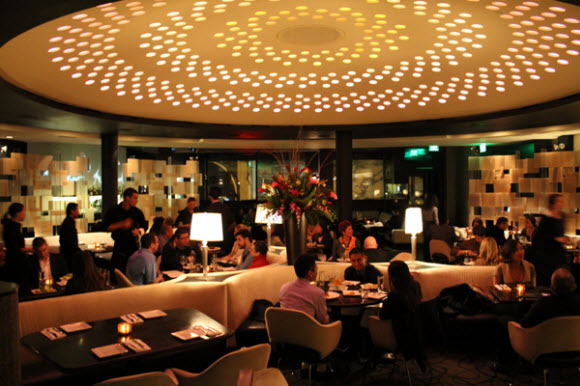 5A5 Steak Lounge is as suitable for business dinners as it is for first dates and girls' nights out, making it a favorite of the San Francisco steak-eating community.
The restaurant sits on a corner in the Financial District that sees a flurry of traffic during the day and a slower flow at night. The restaurant, however, is constantly full of diners.
Dinner at 5A5
I recently had the opportunity to visit 5A5 and learn a little more about the restaurant from owner Steve Chen. I met Steve for dinner on a Tuesday night. The mix of diners that evening illustrated the wide range in appeal: many came for dinner or drinks after work in one of the neighboring high-rises; some tables were clearly first dates; a few booths hosted celebratory dinners among friends; and a few families joined in for the last nights of Dine About Town (with older children, no toddlers running between tables here.)
To showcase the variety of dishes served at 5A5, Steve ordered a collection of some of his favorite items:
Hamachi shooter
Truffle fries
Kobe beef sashimi
Lobster tempura
Misoyaki seabass
Certified Angus Filet Mignon
Australian F1 New York steak
Cabassi & Rea Ribeye
Crimini mushrooms
Creamy spinach
Truffled mac & cheese
Steak is part of any good night out
Between bites, Steve shared with me the history of the restaurant—named after the five senses and A5 beef which is the highest grade possible—and its many successes since opening in 2009.
Prior to becoming 5A5 Steak Lounge, the space at 244 Jackson Street was occupied by Frisson, a restaurant owned by famed Silicon Valley investor and PayPal founder Peter Thiel. Although Frisson had been popular, it didn't last long and the space became available in 2008. Steve, who had studied Business and Economics at Berkeley, had started and/or invested in several online and small "brick & mortar" businesses with friends since leaving the management consulting field.
This group of long time collegiate friends & business partners pursued the purchase of the restaurant … with no specific plan as to what it would become.
"I've always loved steak," says Steve, "and to me it's always been part of our family meal, a friends' night out, a guys' night …" And it was an opportunity to open a modern take on the traditional "steak and potatoes" concept (hence the "Steak Lounge" part of the name.) while offering some of the finest cuts of meat available. But it wasn't until Executive Chef Allen Chen joined the team that Steve felt things really came together. Chef Chen, who for four years had been the Executive Sous Chef at Alexander's Steakhouse in Cupertino, wanted to join the San Francisco restaurant scene and approached Steve for the open position. He has since become a part-owner of 5A5 as well.
The job of a restaurant owner
So what does a restaurant owner do? While Steve had been involved in the restaurant investment side, this was his first shot at the day-to-day activities. His first responsibility was establishing a team—many of the original hires throughout the restaurant are there today—establishing a theme, setting the environment, and working with different PR/Media in getting the word out there. While other steakhouses in San Francisco have more traditional décor, full of oak and dark colors, 5A5 has a deliberate loungey feel yet maintaining the class of a steak-serving establishment.
The most important thing to Steve in establishing 5A5 was focusing on the overall experience—a combination of excellent food, contemporary atmosphere, and hospitality. "I love being in a restaurant where you feel welcome," he says. The emphasis on great food and comfort, ease and friendliness is key to running his business, and it's evident in the demeanor of all of the staff.
Growth and notoriety
5A5 opened during one of the worst economic climates of our generation, which stands as a testament to the willpower and perseverance of all those involved with it. Since their grand opening, 5A5 has been received well by visitors and critics alike. Other than the gradual increase in cover count (amount of people in the restaurant) and finally turning a profit, Steve says that the best way to know they've "made it" is by getting positive reviews from complete strangers. "Word of mouth is the biggest validation," he says, recalling an evening in 2010 when three Texans flew in exclusively to dine at 5A5, then turned around and flew home. "They were just three guys who loved beef; they read/heard great things about the restaurant and decided to try it."
Silicon Valley superstars from sports and tech—founders and key players at Facebook, Twitter, YouTube, Zynga, Yelp and the Giants—have been spotted at 5A5. But don't think Steve and staff flaunt that information on Twitter. "We give them their privacy when they're in the restaurant and then put something up after the fact," says Steve.
The Wagyu Way
My favorite items were the creamy spinach and of course the various cuts of beef. Steve shared a few industry steak tips: "cut against the grain of the meat to loosen the fibers and make it more tender, and let steak rest ten minutes [after it's finished cooking] to seal in all the juices." He also provided an in-depth history of Wagyu, which literally means Japanese cows. We tried the U.S. Certified Angus Filet Mignon, the Australian 100% Wagyu and the Australian F1 Wagyu, which is a mix of Japanese Wagyu and Australian Holstein. Steve hopes to get the 100% Japanese Wagyu back sometime this next year, as there hasn't been any available for import to the US for over one-and-a-half years now.
Steve suggests that Wagyu newbies start with the regular, equally delicious, steaks, then try the mixes and lastly graduate to 100% Wagyu to compare and contrast the different steaks, saving the best for last.
Nowadays, Steve isn't at 5A5 daily as he is able to spend more time with his wife Jamie, their young son and a soon-to-be newborn. He is also working steadily on ScreenDate.com, a dating and social mixer style service where attendees pick who they want to see at the events. I imagine many meetings at ScreenDate events lead to first dates at 5A5.