Salumeria to Preview Menu With Two Pop-Ups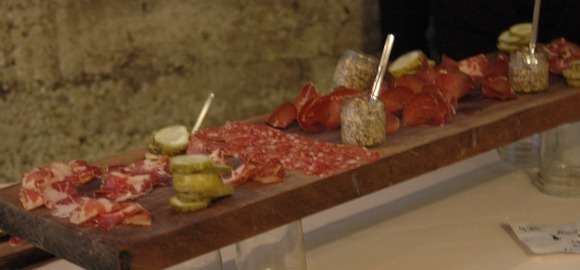 The group behind the ever-popular Flour + Water is allowing fans to try out some of what's to come from one of its newest project down the block, Salumeria, this week.
Salumeria and Central Kitchen are both now scheduled to open in late April, early May. Salumeria will be the more casual outpost, featuring house-cured meats, cheeses and sandwiches, almost like a deli.
This week, Flour + Water Executive Chef Thomas McNaughton and Salumeria Chef de Cuisine Matt Sigler will be showcasing what's to come at two separate preview pop-ups. The first will beheld Wednesday, February 29 from 11:30 a.m. to 2:30 p.m. at Flour + Water (2401 Harrison Street) and the second will be held on Friday, March 2 from 6-10 p.m. at Clooney's Pub (1401 Valencia Street)
Each event will be cash only and both will offer both dining in and take out options. Below are the menus for each of the pop-ups.
Wednesday event at Flour + Water
Antipasti, $5 each
marinated carrots
olives
mint
farro
green garlic
fava leaves
Sandwiches, $10 each
grayson cheese, broccoli rabe, salsa rustica, baguette
prosciutto cotto, reading cheese, pickles, whole grain mustard, gougère
sweet and spicy coppa, carmody, pepperoncinis, calabrian chili aioli, mustard greens, ciabatta
Extras
salt and pepper potato chips, $3
san pellegrino soda, $2
gazzosa soda, $3
Friday event at Clooney's Pub
Pork Rinds, $4
Picnic Plate, $10
seascape cheese, genoa salami, pickles, whole grain mustard, marinated olives, grissini
Sandwich, $10
prosciuitto cotto, mortadella, pepperoncinis, whole grain, olive tapenade, pickled carrot, wagon wheel cheese, foccacia