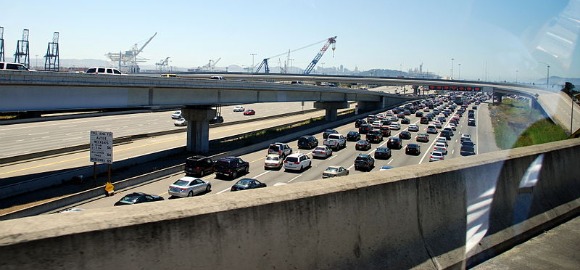 Good weather and around the clock work allowed Caltrans to open the Bay Bridge more than a day earlier than expected following construction on the upper deck of the span this past weekend.
The first cars, escorted by the CHP, crossed the span around 7:15 p.m. Sunday night. Originally, officials had set a deadline of Tuesday morning at 5 a.m. for work to be completed on the bridge.
Caltrans spokesman Bart Ney said that crews did paving, striping and guardrail work on the westbound lanes from the toll plaza to the incline and contractors were also able to finish demolition work on parts of the old span that are no longer in use.
Drivers heading towards San Francisco on the westbound span will also see a slightly new configuration as the roadway curves left sooner after the toll plaza. The turn is not as sharp as the S-curve, which was added to the bridge in 2009.
The next time Caltrans plans to shut down the Bay Bridge is Labor Day 2013, which is when the new span is scheduled to open.
Photo Credit: fastily, via Wikimedia Commons