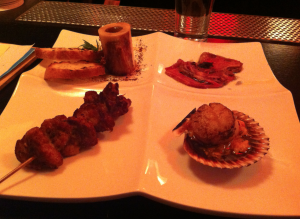 Nombe (2491 Mission Street) translates loosely into 'drunkard' in Japanese. So it's only fitting that the home for Japanese comfort food in the Mission would be throwing down with some of the best brews in the city during Beer Week.
Over the past several years, owner Gil Payne has developed a great relationship with the brewmasters at Magnolia (1398 Haight Street). After a little research in the kitchen, in conjunction with his Executive Chef Noriyuki Sugie, he decided to create a special menu meshing Nombe's eclectic fare with the equally inventive libations produced by Dave McLean and company over on Haight street's most popular brewpub. The end result is a $40, 5 course tasting that has been alluring drinkers and diners alike throughout the week. It will continue until this Sunday, but most of the featured flavors and beers will be available for the remainder of the month.
A savory scallop served in its own shell and doused in brown butter ponzu is light enough to benefit from its pairing with Magnolia's crisp California Kolsch. A shish kebab of sautéed sweetbread has an irresistible crunchiness that goes well with the floral maltiness prevalent in the Tweezer–a heavy-handed trippel. Magnolia's exotic Oysterhead Stout is brewed with actual Hog Island Sweetwater Oysters, giving it a subtle brininess that cuts through the robust fattiness of Nombe's sensational Miso-powdered Bone Marrow offering.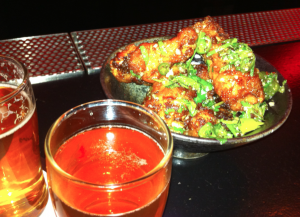 Everything described above would make this tasting worth going out of your way to try, but there are also two other components of the meal that were truly transcendent: Beef Tongue with smoked oil, tender and cured to perfection with the flavors of umami-fied pastrami. It was served with a monster IPA, Promised Land, boasting a double digit ABV. Last–but certainly not least–Smokestack Lightning Ice Cream, made with imperial stout and gloriously topped with Maple Bacon Bits. It was a flavorful combination that I would have liked to cherish for some time, yet couldn't manage to keep it in my bowl for longer than about 30 seconds. Words can hardly do it justice, so you're just going to have to make your way over to Nombe ASAP to try it for yourself.