49ers-Giants Game Preview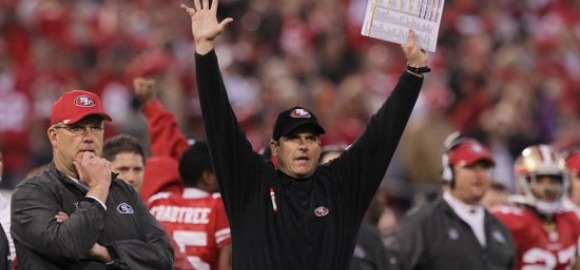 Last week's preview of the 49ers-Saints game was much easier for me to write. I was 80 percent sure that the Niners would win; just call it a strong hunch and I almost predicted the final score correctly. The game unfolded almost exactly how I thought it might. But Sunday's game is a much different story.
I have gone back and forth all week in trying to figure out which team will come out on top. The Giants have been playing some great football over the last four weeks including last week's upset over Green Bay at Lambeau Field. Quarterback Eli Manning has performed at an elite level all season and they have a balanced offense with their running game (Ahmad Bradshaw and Brandon Jacobs) and three very good wide receivers (Hakeem Nicks, Victor Cruz and Mario Manningham). Unlike last week against the Saints, where the most dangerous players were a running back (Darren Sproles) and a tight end (Jimmy Graham), New York can attack from all angles. But perhaps the most elite part of the team is their defensive line. The Giants defense can pressure any quarterback without having to blitz, which is a huge advantage.
The 49ers on the other hand passed quite a bit more than I expected last week. The game was really put in Alex Smith's hands and he performed brilliantly throughout. Tight end Vernon Davis had a monster game, including catching the game-winner. I'd expect a bit more of Frank Gore this week to try to slow down the Giants pass rush. Also, don't be surprised if Michael Crabtree comes up big; he had a few drops last week, but I expect the Giants defense to try to take away Davis, freeing up the Niners wide receivers. The defense came up big as usual forcing turnover after turnover against the Saints. They'll have to try to do the same on Sunday.
I really struggled with trying to figure out how this game would play out. I can see why many of the pundits like the Giants; they are playing with a swagger and confidence unlike any of the four teams remaining in the hunt. They like to talk and have backed it up to this point. Eli Manning has the Super Bowl pedigree and the defensive line is playing out of this world. But, I just don't know if it will be enough.
I see the Niners defense coming up big in the first half, pressuring Eli Manning into a few bad throws and capitalizing on those mistakes. The 49ers seem to take advantage of every opportunity to force turnovers and I think that trend will continue. Protecting Alex Smith will be key on offense; taking sacks is okay, but he can't force throws when pressured. I expect plenty of quick passes and maybe even a few screens to Gore and Kendall Hunter and maybe even tight end Delanie Walker, if he's back in action. Final score: San Francisco 27, New York 24.
Photo Credit: www.49ers.com