Year of the Dragon – Gung Hay Fat Choy!
Welcome to the year of the dragon, year 4710!
Chinese New Year's Day is on Monday, January 23, marking the most important time of year in Chinese culture. This is a time of vibrant colors, lion dancing, loud noises to chase the bad spirits away, and of course, the food.
Dishes served during the fifteen-day celebration have significance and symbolic meanings that are intended to affect the future. Whether the New Year will be celebrated at home or at a restaurant, here are 8 (lucky number) must-have dishes for the feast:
1) Noodles – (面条; miàntiáo) – Noodles, especially if they are uncut, represent long life. One of the luckiest noodle dishes is Jai or "Buddha's Delight." A vegetarian dish served on the first day of the new year, it is made with mung bean strands (cellophane noodles) and many other "lucky" Chinese ingredients such as, dried bean curd sticks (腐竹; fǔ zhú) which blesses the house, black mushrooms (冬菇; dōnggū) for opportunities, and golden lily buds (金针; jīnzhēn) for wealth. Many restaurants have this dish throughout the year, but here is a recipe courtesy of Chow to show how many lucky ingredients are present in this dish:  JAI RECIPE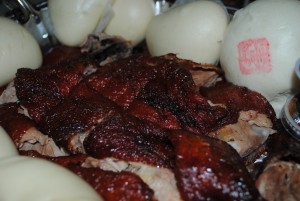 2) Duck – (鸭肉, yāròu) – Red is a color of good luck and happiness and the perfectly caramelized skin on a roasted duck naturally has that. The duck, also symbolizes fidelity, are perfect with steamed clamshell buns.
Cheung Hing – 2339 Noriega at 31st Avenue, Outer Richmond
Yank Sing – 49 Stevenson Street, SOMA
3) Pork – (猪肉; zhūròu) – Barbecued pork or "char siu" also boasts a hint of red in its sweet glaze and the meat signifies strength and wealth.
Gourmet Delight – 1045 Stockton Street between Jackson and Washington, Chinatown
Cheung Hing – 2339 Noriega at 31st Avenue, Outer Richmond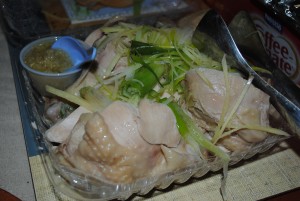 4) Whole Chicken – (鸡肉; jīròu) – Symbolizing togetherness, the whole chicken is poached or steamed and served with a ginger and scallion dipping sauce. Tip: when ordered whole with feet, tail, and head, the dish now represents "completeness."
Emmy's Restaurant – 1923 Ocean Avenue between Ashton and Fairfield Way
R&G Lounge (where it is known as "Princess Chicken") – 631 Kearny Street between Sacramento and Commercial, Chinatown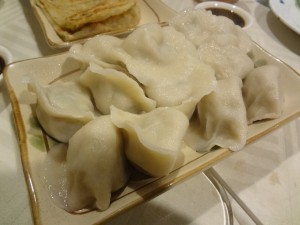 5) Dumplings – (jiǎozi, 饺子) – the dumplings which signify wealth, are traditionally made by hand at home with the company of family, but San Francisco has an abundance of shops that offer them for take-out and eat-in.
Good Luck Dim Sum – 736 Clement St between 8th Ave & 9th Avenue, Inner Richmond
Kingdom of Dumpling – 1713 Taraval St between 27th Ave & 28th Ave, Parkside
6) Meatballs – (肉丸; ròuwán) – symbolizing "reuniting." As for Lion's Head meatballs, these large Shanghainese meatballs (the lion's head) are made with pork (strength) and the greens (the lion's mane 绿叶菜; lǜyècài) that accompany represent close family ties.
Shanghai Dumpling King – 3319 Balboa St between 34th Ave & 35th Ave, Outer Richmond
Shanghai Dumpling Shop – 455 Broadway, Millbrae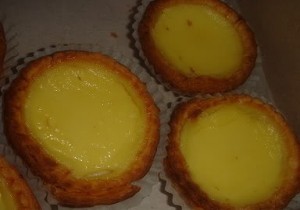 7) Egg – (蛋, dàn) – representing fertility and wealth from the golden round yolk, dan tat or egg custard tarts are ideal after a banquet of savory dishes. The line can get long, so early arrival is suggested.
Golden Gate Bakery – 1029 Grant Ave between Jackson St & Pacific Ave, Chinatown
8) Round Fruit – Tangerines (橘; jú), kumquats (金橘; jīn jú), pomelos (柚子; yòuzi), pomegranate (石榴; shíliu) – all these fruits signify wealth and prosperity
Restaurants Serving Chinese Banquets:
New Year Festivities in San Francisco:
Wok Wiz Walking Tours – The Year of the Dragon Chinatown Stroll and Banquet – INFO
Chinese New Year Parade – Saturday, February 11, 2012 – televised on KTVU Channel 2 – INFO
Chinatown Community Street Fair – Saturday, February 11 and Sunday, February 12 – INFO