Preview: New Years at Snowglobe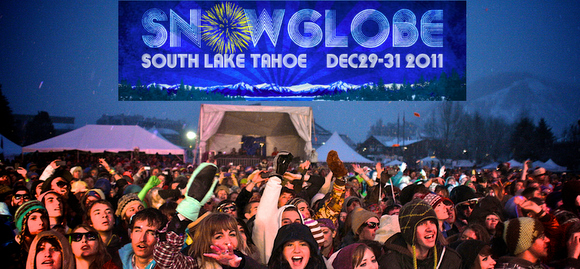 For winter sports lovers and dance music aficionados alike, this weekend's three-day and night Snowglobe festival in South Lake Tahoe is a holiday in itself. Musicians from around the world will keep concertgoers warm in the outdoor festival venue as well as dancing into the morning hours at big name after-parties, all with killer lineups.
The festival takes place outdoors at the Lake Tahoe Community College campus and runs through the afternoon and evening this Thursday and Friday, with a big night Saturday wrapping up after the New Years' celebration. When the outdoor party begins to wind down, the indoor celebrations at The Horizon Casino get their start and run each night until sunrise.
Music lovers of all kinds will enjoy indie rock, hip hop, electronic, and more as they dance the last nights of 2011 away. Check out some favorites by Snowglobe artists below and grab up the final tickets to the festival and afterparties before they sell out, guaranteeing a spot at the inaugural event and a New Years to truly remember.
Thursday
Dillon Francis "I.D.G.A.F.O.S."
Pretty Lights "Finally Moving"
Friday
Yelle "Que Veux Tu" (Madeon Remix)
Mount Kimbie "Before I Move Off" (Star Slinger Remix)
Ellie Goulding "Lights" Bassnectar Remix
Saturday
Nosaj Thing "Coat of Arms" (Boreta Remix)
Childish Gambino "Bonfire"
Paper Diamond "You're Making Me High" (Paper Diamond Electro Remix)
Tickets for the festival can be purchased here.