Le Grand Burger at Wayfare Tavern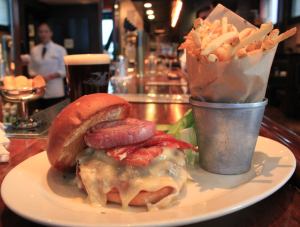 In search of the best burger in San Francisco? Wayfare Tavern (558 Sacramento Street) has something in store for you. One of the most phenomenal features of the Burger "Le Grand" is that it somehow manages to completely justify its $19 price tag. The meat is so devilishly marbled with specks of fatty flavor, the buttered brioche so light and fluffy, yet still capable of structurally supporting the overload of inventive ingredients making this sandwich so unique–you're getting an unforgettable meal for your money.
The components of the hamburger, like the interior of this first-rate gastropub, are elegant and stately, flowing harmoniously into an organic whole. The smokiness of the thick-cut bacon is subdued by the rich and mellow tones of the Mt. Tam Brie–a robust and fatty cheese which is, inexplicably, rarely seen on hamburgers. The roasted red onions and butter lettuce gave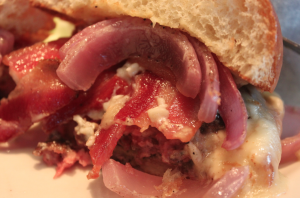 the sandwich a textural boost of crunch, while adding a touch of sharpness into the mix. The most important part–the thick and juicy patty itself–is made of grass-fed beef that uses a proprietary grind for the basis of its unique flavor. Lightly-charred on the outside, yet overrun with rich moistness from within, the meat shines through even when set against such a strong collection of accoutrements.
All in all, this chef-designed masterpiece was engineered so that every single bite harnesses the complexities of all its resources into a singular statement of gastronomic bliss. For $2 more a fried Petaluma egg can be layered atop, but I feared as though this would constitute a prime example of 'gilding the lily.' The lily is quite fantastic as it stands. It can also be considered somewhat of a bargain: served with crispy frites, it's the least expensive entree in a high-end gastropub offering some of the city's most classy and innovative fare.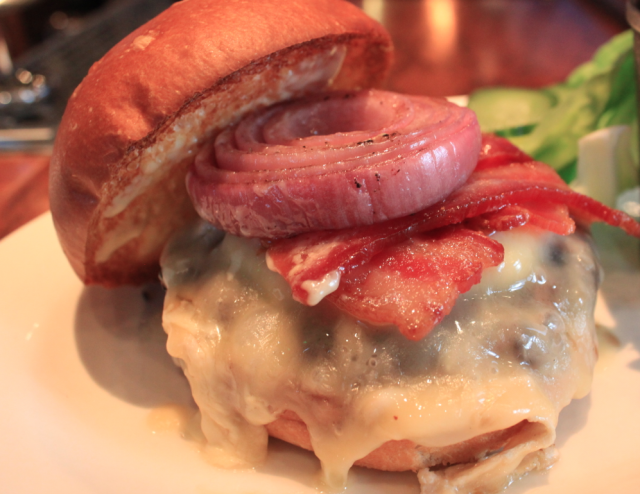 I am on an unending mission to find the best burger's in San Francisco. It's a job that I don't take lightly; night after night I'm willing to put myself out there, on the front lines, to make sure that my dedicated readers don't ever have to suffer through the agony of flavorlessness. New contenders are constantly popping up on the scene, so you always gotta stay fresh, and stay true to your palate. If it's an abundance of meaty, juicy, salty, and savory tastes that you crave–a yearning that only ground beef can satisfy–it is my duty to report that the Wayfare Burger "Le Grand" is the epicenter of epicurean delight.