See-I to Rock the Rip Curl Pro Search
Dancehall reggae group See-I, led by brothers Rootz and Zeebo Steele, feature an upbeat and unique live experience spanning a number of genres. The band hits SF on tour this Wednesday at The Independent for an event celebrating the ongoing Rip Curl Pro Search surfing contest.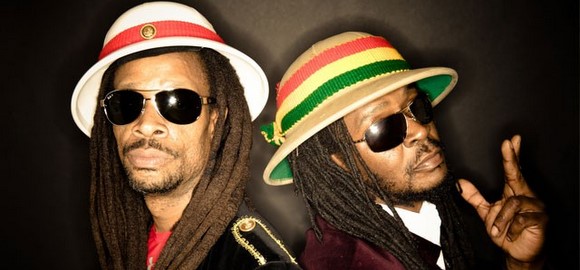 We chatted with Zeebo while he was working in the studio in Washington, DC about playing with Thievery Corporation, what makes their music the perfect sports soundtrack, and the new See-I Remixed, set to be released November 22 on Fort Knox Records.
What are you guys up to today?
We're in the studio. Working on a little mix and some new tracks. We're always working on music, I always try to have it ready when I need it. The remix album is coming soon so I'll probably release these tracks after that.
It must be really fun to produce, tour, and play with your brother.
Yeah, it's a family thing. In my family I was probably about 15 before we had a television so we all used to just chill and play music. Most of my siblings don't look at it as a big deal for us to be musicians, we did it as kids. It's just natural.
You have a remix album dropping soon, do you ever get a remix from an artist and not like it?
I don't wanna say if I don't like them <laughs>, that sounds like a trick question.
How about a remix that you like more than the original song?
On the new CD, the Omegaman remix of "Dub Revolution" is more dubbed up, less vocal than how we did it in the studio. I'll give him serious credit for it and we'll probably start playing it the way he remixed it. I've talked to some of the band members, and it's hard for them to change the way they've been playing it for two years but his interpretation of that was on point.
Your music gets remixed into so many different genres, what makes it so perfect and easy to adapt to different sounds?
Some of the elements in our music aren't really genre oriented. A lot of people would recognize us as reggae musicians, which we are, but we grew up listening to soul, funk, and rock and roll too so a lot of those elements come out in the music.
It's hard for me to produce music and not interject different styles into the songs. When you listen to a See-I song it's not just reggae, it goes in different places, and that's not something I try to do, it just happens. When people are real, its so much more acceptable.
You play with other bands too like Thievery Corporation, do you ever lose track of who you're playing with or does it just come naturally?
I would like to think that it's really natural because music and audiences inspire you in different ways. There's a little bit of difference in playing with the two bands but there's enough to inspire me in each situation that makes it unique to that band.
You're playing a Rip Curl Pro Search party out here in SF and you guys play events at a lot of ski and snowboard resorts – it's almost as if your music is perfect for sports.
I think it's because it's energetic and positive. Me and my brother grew up singing in a Gospel church with people clapping their hands and stomping their feet, full of a lot of energy, and that's how I learned music. I think sports and that high energy environment go together perfectly.
Do you guys surf at all?
I don't surf, but I'm definitely one of those people who enjoys watching. I tried it one time and it didn't go too well. I think we were in Spain, not sure.
See-I "Soul Hit Man"
Aqua Surf Shop & San Franpsycho present Bali Hi-Fi Rip Curl Pro Search featuring See-I at The Independent on Wednesday, November 2. More info.
Ellen Lovelidge is a writer and DJ, for more on her check out djlilelle.com or follow on Twitter at @djlilelle.