Maharaja: The Splendor of India's Royal Courts
Although the "Maharaja: The Splendor of India's Royal Courts" exhibit drips with splendor and luxury, it also seeks to highlight the roles and qualities that made up the royal courts during a time of swift political change.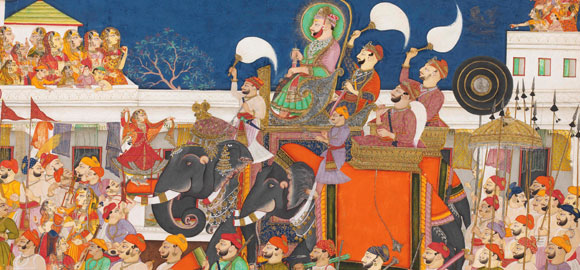 The Asian Art Museum is hosting the U.S. of the exhibition through April 8th. The collection gathers relics of the Indian empire from the early 18th century through the 1930s. At first glance, the exhibition dedicated to the Maharajas—a general term used to refer to all of India's kings—instantly reveals the jaw-dropping opulence of the royal courts.
Walls are lined with delicate paintings, most done in immaculate watercolor, that presents artful depictions of daily life, rituals, ceremonies, religious and secular celebrations and cultural customs. Each painting is marked by its breathtaking attention to detail, utmost concern with precision, and dedication to beauty. Gorgeous paintings shout in vibrant colors, diaphanous layers and reveal an exuberance that helps remind viewers that these people truly existed in the world not just in the images embedded with flecks of gold.
And let's talk about the jewels: gold, rubies, emeralds, diamonds, jade and sapphire were abundantly displayed from the scenes in the paintings to the adornment on the weaponry, clothing and hair ornaments. Even tools designed for the sole purpose of controlling elephants has embedded sapphires and gold.
Interestingly, some of the most amazing pieces in the collection were made with the intention of being considered art, much less for display within the confines of museum walls. Ceremonial weapons like daggers, shields, swords and even sheaths drip with royal jewels. An elaborate, engraved gold throne sits in the middle of one gallery shimmering in its complete immanence. Elaborate firearms with beautiful designs—one with perfectly pink flowers—are also there within arms reach, alongside paintings like the girl-power picture "Queen Chand Shooting with Her Ladies."
Black-and-white photographs, heavy robes woven from goat hair, Cartier jewels from Paris and a massive silver carriage clearly made for a king are also included in the collection. Anecdotal descriptions and a few short films flesh flesh out the collection and provide additional background.