Best known as the drummer from 80s glam metal band Mötley Crüe, Tommy Lee currently spends his creative energy making dance music alongside partner DJ Aero. The two are currently touring the continent with Deadmau5 and are set to hit SF for a sold out show with him at  Bill Graham Civic Auditorium on October 29.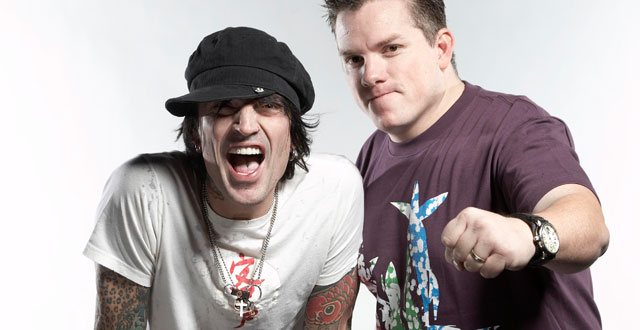 We chatted with the always charming and well-spoken Tommy Lee and DJ Aero about blowing up in the electronic music community and rocking a sold out tour behind the decks.
Hey guys, having fun on tour? Having fun all the time?
Tommy: Having fun all the time. We're on a tour bus starting today so that is a relief, bus touring is better than flying all day long. Wait, unless you're going to Australia, that's kinda a bummer to take a bus. We're on day three here—the third sold out show—in Boston, so it's not sucking.
We're about to have the studio installed on here and get to work on some new shit. Everybody who's here, everyone in the vicinity will want to work on music and we'll have some amazing production coming out of this tour together.
DJ Aero, back in 2000 you sent Tommy a video of you DJing and scratching to get his attention. What drew you to him, in particular, and what vision did you see for the two of you at that point?
DJ Aero: Well, Methods of Mayhem [Tommy's newer band] had already recorded their record so he had already worked with Crystal Method, Snoop Dogg, Kid Rock, George Clinton and others. Mixmaster Mike was ready to leave and go out on tour with Beastie Boys so Methods of Mayhem was looking for a replacement. A friend of mine from high school knew a member and even though Tommy and I had never met, after sending the video I got an audition and Tommy and I have been hanging out ever since.
Tommy, when you stepped in the production studio to work on electronic music did it all come naturally because of your music background or was there a bit of a learning curve?
Tommy: Well I'm always learning; there's always new technology so I think I'll be in school forever. When Aero jumped on board it was my goal to make a hybrid, techy record and combine so many different styles and techniques. I remember it very clear—going to get vocal parts pressed on vinyl so we could re-scratch them in instead of singing them and make them go forward or backward.
We were always trying to break the rules. Aero was on our plane of creativity and high-tech shit so when we met it was a done deal. We've been together making racket for over 10 years.
Back in the 80s and 90s was there electronic music you were really into?
Tommy: Yeah, I was into it before then. I'm a drummer, anything with crazy beats I'm attracted to. It doesn't matter the genre—whether it's hip hop, industrial, fucking metal, house, breakbeat, you name it—if it's got bad-ass beats, I'm all over it.
People ask how you go from being a metal drummer to electro producer and DJ but it seems almost natural since they're all hard hitting beats.
Tommy: Thank you for recognizing that, some people have a hard time with it. I can't say it's been an easy transition to make. The electronic world is pretty temperamental about letting someone like myself in. I think people now realize that I am a drummer and electronic music is highly based around the beat. I think I qualify.
So what do you think about celebrities who have no connection to music or beats becoming DJs and taking over the tables at a club?
Tommy: Man, that really bothers me. Early on when Aero and I started and realized we could do this stuff, pre-DJ AM and Travis Barker, back in 2004, I was playing drums and we were DJing together. We would get booked doing those kind of gigs where it's just booked on celebrity and we wouldn't just go and play stuff off our iPod.
It took a minute to get people to realize "oh we got the wrong guy, dude." That didn't last for long, we stopped taking those offers.
Aero: We would be playing hard electro and most of the time they wanted top 40 or mashup stuff.
Tommy: For some reason they weren't expecting a Mötley Crüe DJ set, which is what it is. I can understand if we came out and started that way but we were playing electronic music when it wasn't trendy and celebrities weren't playing it.
It's so important to us to stay real to what we do. It's funny that what's become mainstream and accepted was what were were doing before when it wasn't accepted.
I would ask what would be your dream show to play, but it seems like you're playing them all.
Tommy: Yeah, we're on a sold-out tour with Deadmau5 and his fans are so into music. When we go out there and play, it's pretty surprising the response we get, some of these people have never heard of Tommy, never heard of Aero, never heard of Mötley Crüe or anything. We just go out there and play and they love it.
What do you think about the electronic music crowd being so young?
Tommy: I think it's awesome because they don't know; they're just there to enjoy the music and have fun. Some crowds you can tell they're older and just sitting there watching, waiting to get loose. But like last night in Boston, we played early and the crowd was going nuts. It was is if it was 12am but it was really 7pm and that's the young kids!
So, are DJs the new rockstars?
Tommy: I guess, they're definitely out in the forefront now. Back in the 90s, at parties the DJ was back in the corner behind stuff, no one knew what he was playing, no one cared, they just went there to dance. Now it's the opposite and the DJs on the spotlight and everyone wants to know what you're playing and doing and get involved.
Tommy Lee & DJ Aero "Static"
Tommy Lee and DJ Aero perform at the sold out Deadmau5 show at Bill Graham Civic Center on Saturday, October 29 along with Fatboy Slim, A-Trak, and others. More info.
Ellen Lovelidge is a writer and DJ, for more on her check out djlilelle.com or follow on Twitter at @djlilelle.