Ferran Adrià is Here in San Francisco!
The day has finally come and I am sure many of you have been counting down the days.  Ferran Adrià, the world-renowned chef of elBulli will pay a visit to the historic Castro Theater tonight bringing along copies of his new book "The Family Meal: Home Cooking with Ferran Adrià."  But what will he talk about?
Since the closing of elBulli in July many wondered what the Catalan "mad scientist" was going to do next.  Sure, the former restaurant space would turn into venue to develop creativity in haute cuisine, but how about the man behind it all?  What did he do?  What does he see for the future?  How will his family cookbook help an everyday person who has never experienced his style of gastronomy?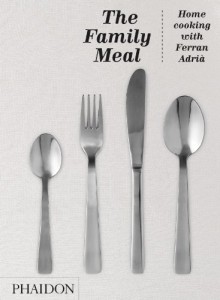 For the ticketholders, they will find out tonight.  Chances are majority of the attendees have never been to El Bulli.  The only knowledge they have of the heralded restaurant in Spain are of the vignettes on No Reservations – watching Bourdain take that sphere of (fill in the blank), put it in his mouth, close his eyes for a moment only for him to open them again with an expression on his face that only an epiphany would create.  Or of celebrity chefs posting their iPhone pictures course-by-course on their social media streams – while envious followers across the globe wait patiently for the next one (as they foam at the mouth).  Or they just know this man is legendary.
What kind of man is Chef Adria?  What inspires this chef to come up with edibles no one has attempted before him?  The chemistry behind his recipes (more like mathematical equations), the meticulous planning, the science of flavors and senses and even emotion.  People want to know.
Tickets for the event sold out in a matter of days.  According to the Castro Theater's website, it can house over 1400 spectators.  When Omnivore Books first announced Chef Adria's visit, Twitter came alive with RT's of the event.  And soon, foodies, writers, and chefs notified the world that they got their hands on the [golden] ticket as if it was admission to a rock concert…or even Willy Wonka's factory.
Chef Adrià:  a mad scientist?  a creative genius?  a rock star?
To some – maybe.  To others – sure.  To more – all of the above.